Google's smart virtual assistant and its answer to Apple's Siri - Google Now - may just be coming in a widget form to Nexus handsets and tablets. A leak on the Google support page (taken down now), spotted by Android Central revealed a widget which is very minimalist in its appearance and clubs together relevant cards.
According to Google's official support page, this widget can either be on your homescreen or be a part of the lock screen. Its main aim is to summarise your current Google Now cards. On clicking the relevant part of the widget, you can activate that particular card.
There were references to Nexus 4, Nexus 10 and Galaxy Nexus but strangely no mention of Nexus 7. Whether this widget will be offered on the next Android update or an update via Google Play store is yet to be seen. For all we know, this concept might just be that - a concept. But it looks quite practical. We will have to wait and watch.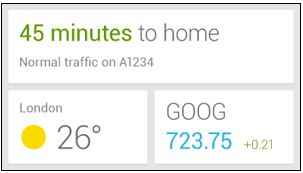 Source: Android Central