Soon Google Maps on iOS and Android will show "relevant ads". Google's latest update to its Maps app on the two major platforms brings advertisements at the bottom of the screen after a user performs a search. The new feature is aimed at end users as well as businesses.
The ad includes a title, ad text and a link to get directions. Users can either tap or swipe upward to get more information. Google brands this as a new click type, "Get location details" and results in a standard CPC charge.
On clicking an ad to get location details, they'll see additional information such as the business's address, phone number, photos, reviews and more. Google also lets users perform a range of free actions such as saving business information for later, sharing with friends or start navigation.
" Over one billion people use Google Maps services every month. On the Google Maps app, these users are often searching for local businesses - from restaurants, to car dealerships, to dentists, and more. Recently, we launched a new version of the Google Maps app for Android, iPhone, and iPad where we introduced several new features. Today we're introducing an updated ad experience we think is more attractive for users and more effective for advertisers," says Google in a blog post.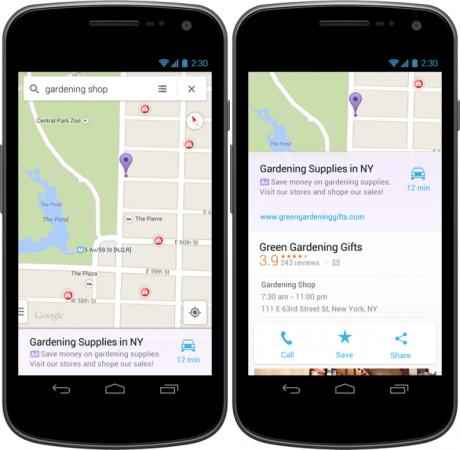 Paid clicks include the initial 'get location details' click, get directions, click-to-call and clicks on the ad headline. AdWords will only charge for up to two paid clicks per ad impression. Reporting for these paid clicks can be found by segmenting reports in your account by 'click type.'
" To show ads on the Google Maps app, advertisers need to add location extensions to their search campaigns or create an ad with AdWords Express. If your campaign is not showing ads on mobile devices or on Google search partners, you'll also need to change those settings," explains Google in the post.