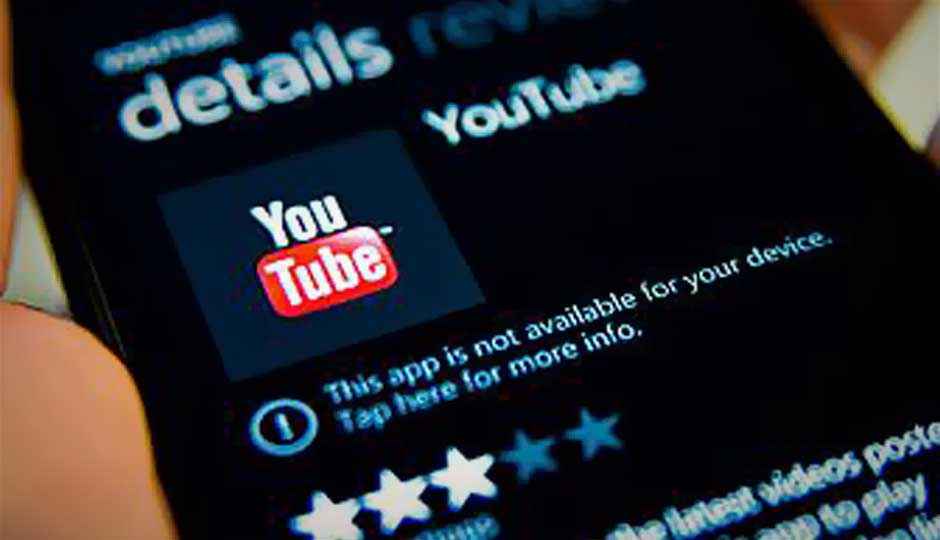 Earlier last week, Microsoft had pushed out an update for its rather archaic Windows Phone YouTube app, bringing sign-ins, downloads and a full YouTube experience. Today, they have received a cease and desist letter from Google, asking the app to be taken off the Windows Marketplace by May 22 or face legal action.
The reason, as per Google, seems to be the fact that the YouTube app offers absolutely no ads to the user. Google says that this is in direct violation of the YouTube APIs and therefore, the app must go. Microsoft, on the other hand, has come forth stating that they'd be more than happy to include ads in the app if Google would allow them access to the relevant APIs, which it has refused to so far.
However at today's Google I/O, CEO Larry Page stated that "we struggle with people like Microsoft," with reference to the recent spat over YouTube APIs and Exchange server support. Microsoft came back with a response to the statement, saying that "In light of Larry Page's comments today calling for more interoperability and less negativity, we look forward to solving this matter together for our mutual customers." This could have meant a reconciliation between the two companies, seeing as how you can now access Google Chat through Microsoft's Outlook mail.
The two companies have been embroiled in a lot of back-and-forth negativity, with Microsoft filing antitrust complaints against Google in the EU over the search giant's apparent refusal to let Windows Phoneaccess YouTube metadata. Then there was the 'Scroogled' ad campaign by Microsoft, which many thought was in poor taste.
On Google's part, it was a bad move to drop support for Exchange ActiveSync, a decision that turned everything upside down over its lack of the alternative CalDAV and CardDAV protocol support for Windows Phone. So clearly, both companies have been at loggerheads, but hopefully, the near future would see them bury the hatchet and put consumer experience over their own petty squabbles.
Source: The Verge