Google's Hangout app for iOS has received a major update, that has added new voice calling features. Users can now call and receive phone calls from the app itself, with no charge for any calls to the US and in Canada. Google Hangouts will use your Google Voice number for answering incoming and outgoing calls from your Hangouts app. The feature is available for iOS users only for now.
The Google Hangouts for iOS app is cross-platform and will allow people using a desktop system and a mobile system to talk. The update allows you to make those free calls to the U.S. and Canada and has also added animated GIF support. It has also added a new feature that pauses your music instead of turning it off during incoming calls.
Users will also be able to make international calls as well but will need some calling credit via google.com/voice/m/credit. Google adds that the new features will be launched for Android users soon.
Google recently announced embedded posts similar to its competitors Facebook and Twitter. The embedded posts feature allows site owners to add their public Google posts to their web pages. Users will have to use codes to embed the posts, including a JavaScript snippet and an embed code. The embedded posts will be interactive, so visitors can leave comments or follow the posts. The feature is available on the public posts and can be easily accessed from the drop-down menu that is on every Google post.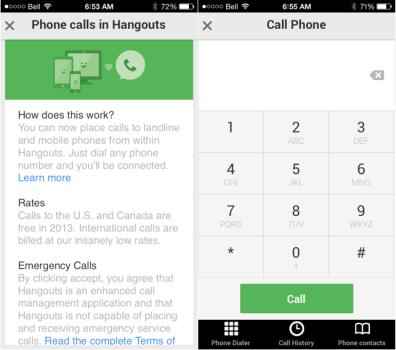 Source: Google Plus