Android privacy tool App Ops, which was released with android 4.3, has been removed from the OS with the latest Android 4.4.2 update – sparking backlash from several users and privacy advocates. Google, however, defends the move saying the feature was released by accident and that it was an experimental feature that could break some of the apps in the OS.
App ops provided users with options to deny some of the permissions sought by the apps . This provided users control of what they wanted to share with the Android apps. iOS has offered app controls for sometime though its settings, but Google's interpretation seemed better – it offered an interface with an overview of permissions sought by the app. It was a boon for advanced users, who were concerned about their privacy .
Though being removed from latest android release it's still available to those with root access or if you have installed cyanogenmod on your device.
US-based non-profit digital rights group Electronic Frontier Foundation (EFF) has sought Google to restore the feature as the current state, the app misses out on some "fundamental pieces".
EFF says, "Android users should be able to disable all collection of trackable identifiers by an app with a single switch, including data like phone numbers, IMEIs, information about the user's accounts."
"The App Ops interface needs to be smoothed out an properly integrated into the main OS user interface, including the Settings->Apps menus and the Play Store. There are numerous ways to make App Ops work for developers. Pick one, and deploy it."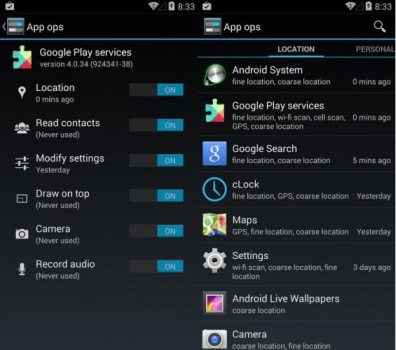 Source: AndroidAuthority