Google has rolled out the latest update for Gmail app on Android, adding actionable features within the new message notification. Actions added include reply, archive or delete the email, without even having to actually open it.
The update is only available on smartphones running Android 4.1 or a later version. In the post announcing the update, Google explains the new features in a rather light hearted way, "You can combine this with existing notification features like the ability to customize which messages you receive notifications for and set up different sounds for individual labels. So if you filter and label all the messages from your mom, you could set a ringtone to let you know you received a new mail from her and then quickly reply (because we know what can happen when you ignore your mother!)."
Users with smartphones still stuck On Android 4.0 will get a toned down version of the update that enables faster search and offers general performance improvements.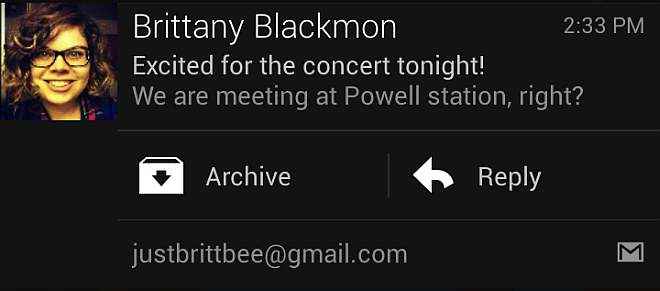 You can download this update from the Play Store directly on the phone.
We are pleased to see Google use the "actionable notifications" on phones running the newer version of the OS, something that has been fairly neglected so far. We do hope to see more apps integrate this feature in their notifications, making the entire process of using apps on the phone quicker and smoother.
Source: Google