Foursquare has launched a Windows 8 app, which helps you check-in, keep tabs on friends, earn badges, become mayor, and more. The app is meant for devices with larger screens and can be downloaded free from the Windows Store.
The new Foursquare Windows 8 app utilizes Microsoft's Modern UI, and lets you see places that are currently trending, recently opened, or just best nearby. You can easily search for "Thai", "park" or "brunch" or whatever you want. The app helps you get directions, hours, photos, and much more. It has a full-screen photos viewer that makes images look great.
You can also save places to your to-do list and create custom lists as well as get tips from friends, about top publications and brands. Users can Like or dislike places and leave tips for friends while travelling. The new foursquare app lets you check in without interrupting location browsing. The app helps you keep in touch with friends, track what they're up to and much more.
The new Windows app has been optimized for desktop and tablet users so they can sit back and browse the app's features at their leisure on bigger screens. Sean Salmon, lead UX designer at Foursquare stated, "We re-imagined the context of the app—from being totally 'mobile' and on-the-go, to a something that would be appropriate when you are relaxing at your desk or couch."
Foursquare now even works as a search engine for non-registered users who can access Foursquare's search and recommendation functionalities without signing up for an account.
David Ban, of Foursquare business development states, "It's really about being the best local search and recommendation service. It's about how you show new users that value. Especially for people who don't think of Foursquare as that when they first download the app, we want to make sure those recommendations are front and center."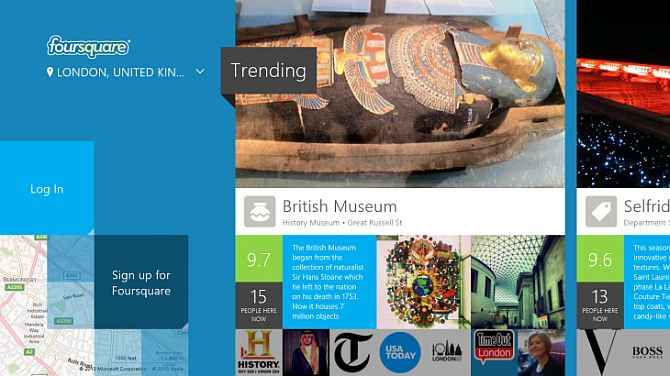 Source: TechCrunch