If you have been looking to play the popular Flappy Bird game or looking for its alternatives, here's an important heads-up for you – a fake Flappy Bird app has been spotted Google's Android Play store that tricks users into sending premium messages and increases your mobile bills.
According to Trend Micro, the malicious app asks for the additional read/send text messages permissions during installation, something that is not required in the original version.
Trend Micro adds all of the fake versions of Flappy Bird were so far premium service abusers, apps that send messages to premium numbers, thus causing unwanted charges to victims' phone billing statements. Apart from premium service abuse, the app also poses a risk of information leakage for the user since it sends out the phone number, carrier, Gmail address registered in the device.
Dhanya Thakkar, Managing Director, India & SAARC, Trend Micro said " The original Flappy Bird has been officially taken off the mobile app stores, but hackers have reportedly released knock-offs of the 'addictive' game, containing spam, to trick users into sending premium rate text messages."
Trend Micro researchers find out that the fake apps were most prominent in stores targeted at users in Russia, as well as Vietnam.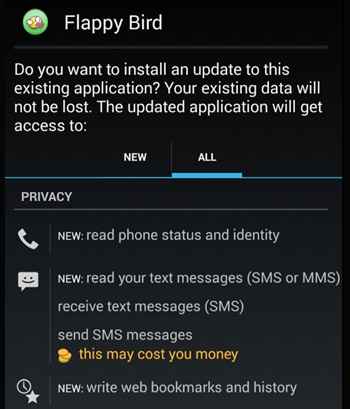 Earlier, developer of Flappy Bird pulled the popular game from iOS and Androd app stores following a spate of controversies. Though Dong Nguyen, creator of the popular mobile game Flappy Bird, said he had decided to take down the game as it had become an 'addictive product'.
"Flappy Bird was designed to play in a few minutes when you are relaxed. But it happened to become an addictive product. I think it has become a problem. To solve that problem, it's best to take down Flappy Bird. It's gone forever," he said in an interview.
After Flappy Bird was pulled, a number of clones such as Flappy Plane, Flappy Whale, Flappy Penguin and Flappy Angry Bird have flooded the app stores.