A little Social Networking website called Facebook is testing the ability to make VoIP calls and send voice messages. The VoIP calls service as of now is only available in Canada.
Canadians can start a call with a friend by hitting the "i" button in the top right corner if the screen and hit "Free Call." To use the call and voice messaging ability, users will have to update the app to the latest version. Android users can download the app here whereas iOS users can do so here. Also read, Facebook Messenger refresh for Android: First Impressions
The voice call facility is available only in Canada where as the rest of the world is receiving the voice messaging (or voice mail) capabilities.
Sending a recorded message has its own steps. To start, users need to press the " " button next to the box where you type the message and then hold down the record button. When you are done, release the button and your message is sent. If you wish to cancel the recording, slide your finger off the button. Easier said than done right?
The addition of the new feature seems to be made so that users stick to the app to stay in touch with friends and family.
Voxer is one app in which voice messaging plays a big role. In Facebook's version of this appears to be a smaller part of the larger Facebook social networking ecosystem.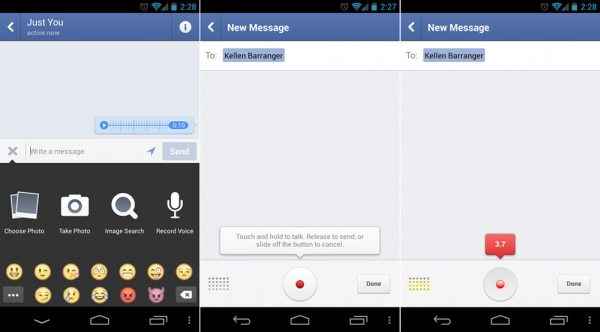 WhatsApp is one of the most popular messaging apps but seems to have a cloudy future ever since information has started circulating the Internet that the service is going to go paid. Will we see users pay for the service or switch to other free alternatives? The best part about WhatsApp is that it lets users send messages to other smartphones that have access to the app irrespective of the platform. The message is sent over data so users don't have to pay for it like they do with SMS's. You can read our review of WhatsApp here.
Another chat app, which we are fond of, is iMessage. Though the app is restricted to Apple's ecosystem it lets you communicate between Mac, the iPod Touch, iPhone and iPad devices. The app is free. Apple also has its own FaceTime app that lets users make video calls to other Apple devices via Wi-Fi or cellular network.
The number of cross platform and platform restricted apps are dime a dozen. You can start a conversation in person, take it forward on WhatsApp, get into an argument on Skype, make up on Facebook and start the conversation all over again over BBM. Phew!
Are we going to see a race for the survival of the fittest messaging app in the future? Will we finally see the death of the good old SMS?