Facebook has updated its Messenger for iOS platform with a slew of new features. The Messenger has now restored the popular delete-by-swiping feature, and has added stickers to make chatting more fun. The app, version 2.4, also brings in a number of bug fixes.
The stickers are quite reminiscent of emojis that are popular in texting. Facebook has featured various animated creations. To add a sticker, users need to simple tap the smiley in the text box, choose one and tap to insert into a conversation. The Social Networking site is also offering premium stickers which user can purchase from a basket in the bottom right of the app.
The new swipe to delete was earlier available on the platform that was later dropped by Facebook, which now says it's restored in view of popular demand. The swipe to delete works same as deleting messages within Apple's messaging app within iOS.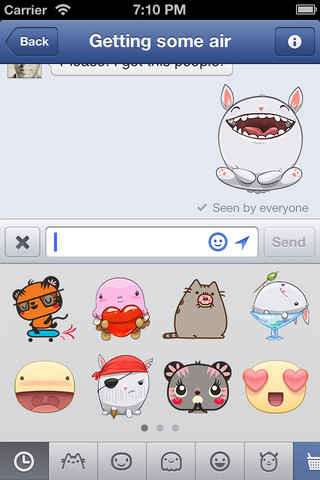 The updated Messenger for iOS is available for download via the Apple iTunes app store.