Facebook has added new capabilities to its mobile app that allow companies to advertise their mobile apps to Facebook users. The new features are meant to increase the presence of third-party apps.
Facebook's new mobile app ads allows a travel app maker to offer deals on things like airfare or hotel rooms and a music app like Spotify could promote a band's new song. The app offers more customizable actions for developers to increase users' engagement. Facebook will allow developers to utilize custom calls to action, such as "Open Link", or "Shop Now" and many more. Any of these actions can be deep linked to specific areas of any app for promotion.
Facebook's director of platform monetization, Deb Liu, providing the company's first public data about that portion of its business, stated that Facebook has over 1.15 billion users who have installed more than 145 million third-party apps. The company has around 8,400 advertisers who used Facebook's mobile app ads in the second quarter.

This is a small number compared to the total 1 million advertisers that Facebook counts, but app developers represent an attractive and growing group of customers for Facebook to tap into.
Facebook has recently started testing a "trending" topics section on its homepage news to rival Twitter's "trends box" to highlight popular topics. The trending column appears on the right hand side of the Facebook News Feed and will highlight popular topics on the site. The column will include hashtags that Facebook rolled out in earlier this year.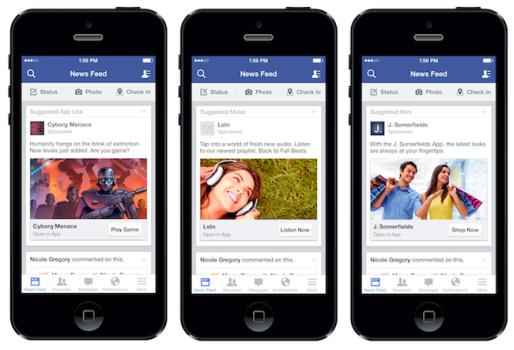 Source: Inside Facebook