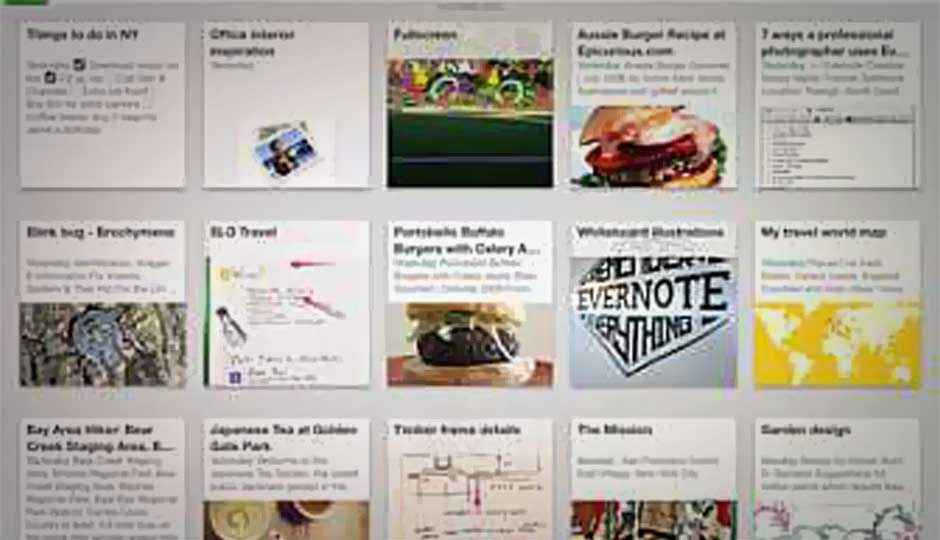 Evernote, the infamous note-taking app has been completely redesigned for the Mac and iOS, and it claims to be refreshed with more than 100 new features to be more visually-appealing, flexible and powerful.
To start with, the left panel of the Evernote app has been redesigned to show shortcuts (a space for everything you access frequently), recent notes, notes, notebooks and tags list.
The notes in the app are listed in card view, making it easier to scan to find the one you are looking for. Your personal notes and shared notes can now also be easily distinguished and viewed thanks to the new viewing system on the Evernote 5 app. The atlas feature of the app also lets users rediscover all the places they have been to.
Just like spotlight on the Mac, Evernote 5 has the ability to smart search with TypeAhead suggestions and filters.
You can take an in-depth look at the new features of Evernote 5 for Mac here.
Evernote also has a walkthrough guide for Evernote 5 making it easy for new users to get used to its functionality and for new users to get a better understanding of the features at hand. Users can take a look at the guide here.
Evernote is also receiving an update for the iPhone, iPad and the iPod touch. The focus for Evernote for the iOS devices is speed and the fact that the most important features of the app should not be more than two taps away.
Users can jump to any part of the Evernote 5 application directly from the home screen of the app making it easy for users to browse through the notes. Tapping a header expands its content. It is also easy to see the notebooks that have been shared with you with the simple click of a button. Taking a picture note from your iOS device is as easy as clicking a picture and hitting the save button.
You can take an in-depth look at all the features of Evernote 5 for the iPhone, iPod touch and iPad, here.