Dropbox has updated its Android app to make the process of photo sharing a lot easier. Users can choose their favourite photos and videos from their library and share it with a few simple taps. To view the shared photos, the viewers don't need a Dropbox account.
Sharing the photos is really simple. From the Photos tab, users can tap the button on the top right, and select the pictures they want to share. Users can add them to a named album to save for later, or just grab the link to share via email, Facebook, or Twitter. Simple isn't it?
The feature is currently available only for Android and there is no word on when the feature will reach iOS. We hope it will happen soon. Android users need to be running Android 2.3 or higher to be able to avail this new feature. Users can update the app on their Android device or download Dropbox from the Google Play store here.
If you are one who hasn't heard of the cloud storage service, Dropbox, you can read our review here. The cloud storage service has crossed 100 million users, according to the company's founder, Drew Houston. You can read the details of that story here. Dropbox has made it easier to switch between their personal and Dropbox for Teams accounts on the Dropbox website. The switch is as simple as clicking your name in the top right corner, selecting 'Switch Accounts.' You can read the details about switching your Dropbox account here.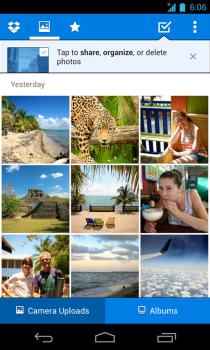 If you are one who is heavily dependent on the cloud for storing your data, you can take a look at our five free cloud storage options here.
Source: Dropbox