Google seems to be quite intent on tweaking the Play Store offering before this festive season. The latest announcement suggests that application developers will now be able to offer trial access of in-app subscription content. The users will have a chance to sample and check out the content for a limited period of time, before the billing kicks in. The minimum trial period has to be of 7 days, but can be longer as well, if the app developer so wishes.
This will be a useful feature for apps that offer regularly updated content that is pushed to the devices automatically. However, the fine print clearly states that users will have to store their payment details in the Play Store profile before they will have access to the trial content. If a user wishes to opt out of the service before the trial period ends, there will be no billing done. However, if the user doesn't explicitly request for discontinuing the service, they will be charged immediately after the free trial period is over.
This update follows the previous major change that Google implemented back in May this year, allowing in-app subscriptions. However, the latest tweak is in stark contrast to Apple's policy on the App Store and the in-app subscriptions, where no free trials are offered.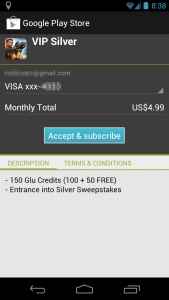 Google seems fairly motivated to clean up and tweak the Play Store ahead of the festive season buying rush for Android smartphones and tablets, particularly the very popular Nexus 7.
We believe this new feature is makes it easier for developers to push interesting content to potential users. Those users who weren't convinced about signing up will surely attempt to take a look at what is on offer. The moot point of all this is simple - good and unique content will stand out, while the run-of-the-mill stuff will be given a pass. And there surely is a sizable chunk of demographic amongst us who will sign up for a free trial, but forget to cancel the subscription!
We would like to hear your ideas on the same, and also what services you will potentially check out before subscribing.
Source: Android Developer