Yes, we know that all of you out there are going bananas on the Flipkart app. The Flipkart Big Billion Days sale is in its first day today, with four more days worth of loot still up for grabs. The sale did get off to a rocky start with the usual website and app crashes, and disgruntled customers taking to twitter to express their woes. Inspite of all this, Flipkart is going strong, and by noon, the online retail giant tweeted saying that they sold off 10 lac units in 10 hours. So, before everything gets snatched away, here are some tips to make the most of The Big Billion Days sale. Get ready, have that smartphone in your hand, and get shopping!
What is the Flipkart Big Billion Days Sale?
Every festive season, online retail giants like Amazon, Snapdeal and Flipkart hold some of the country's largest sales to rope in online shoppers. This is a race to the finish, with each company vying for top honours and big money. This year, Flipkart's 'Big Billion Days sale' is happening over 5 long days and this is how it is split:
13th to 17th October: Fashion
14th to 17th October: Home Appliances
15th to 17th October: Mobiles & Accessories (The one to watch out for)
16th to 17th October: Electronics & Automotive
17th October: Books & more...
So, now that you know the break-up, it's time to find out where this grand affair is happening.
Where is the Flipkart Big Billion Days Sale happening?
The answer is very simple, and most of you probably know this by now, but for those of you who are new to the world of online shopping, it's time to download the Flipkart App right away. The sale is APP ONLY, ever since Flipkart shut down its mobile website. These steal deals are not available even on the website. Now, if you don't have the Flipkart app already, it might take you a while to download it because of the heavy rush. The app is trending on all Android, iOS and Windows app stores, so it should not be hard to find.
Get your 'Wishlist' ready!
While shopping for multiple items (ladies, take note), you will definitely be spoilt for choice. If you want to buy something but still haven't made that critical decision of dolling out the dough, simply create a Wishlist on the Flipkart app. Creating a Wishlist is simple. All you need to do is click on the 'tiny heart-shaped button' under the product photograph, and the app automatically saves your desires in the Wishlist menu at the bottom of the screen, again symbolised by a 'tiny heart' (all you Instagrammers know how this works). Saving these items for later will help you keep track of them in one place, and also assist you in comparing the prices of different items.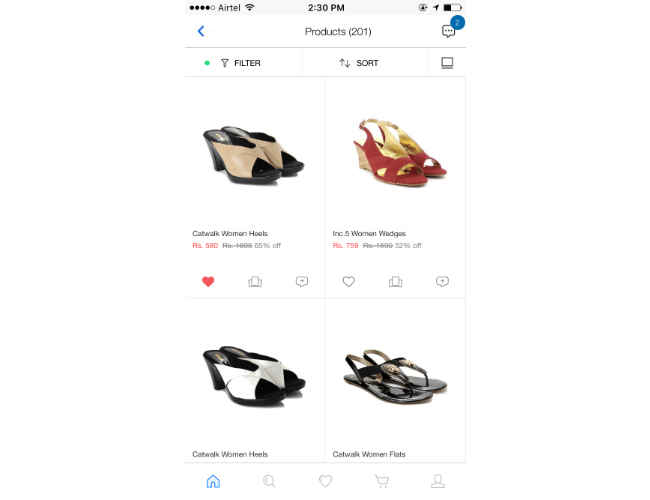 Adding products to the Wishlist
Know your sellers, products and check their ratings
There are two types of ratings on Flipkart - 'Seller ratings' and 'Product ratings'. It's important to know who you are buying your stuff from. Sellers on Flipkart have 'User Ratings' in a scale of 1 to 5, and these can be easily found in the product description. Product ratings work similarly, and are also located on the product page. WS Retail is your best bet, as it is Flipkart's highest-rated seller. Tapping on the 'Rating Stars' takes you to the complete 'Ratings & Reviews' page, where you can also check out 'User Reviews' for more feedback on a product.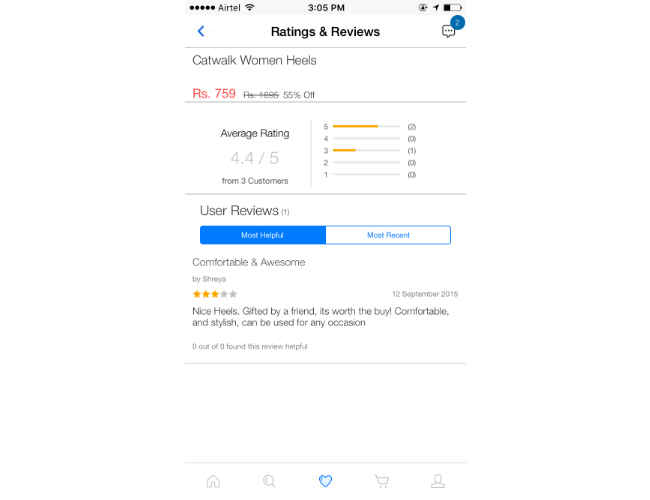 Checking product reviews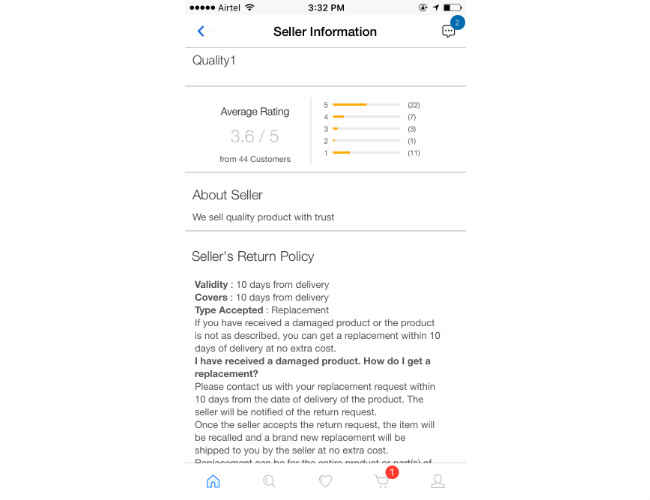 Checking seller reviews by users
Best Payment options for the Flipkart Big Billion Days Sale
During sale seasons, the rush of orders on Flipkart reaches peak levels. The company has already claimed that they are selling 25 items per second. In a situation like this, you want to be doubly sure that you get your money's worth. Hence, the best idea is to pay COD (Cash on Delivery). This way, you can check your item when it's delivered to you, and also avoid the hassle of chasing customer care executives for a refund, if any.
Flipkart also has tie-ups with several leading banks for the ease of shopping. For example, in this Big Billion Days sale, the company is offering an additional 10% off on the selling price of lifestyle items, if the purchase is made using a State Bank of India Debit or Credit card. Make sure that you read the fine-print of such offers, before availing them.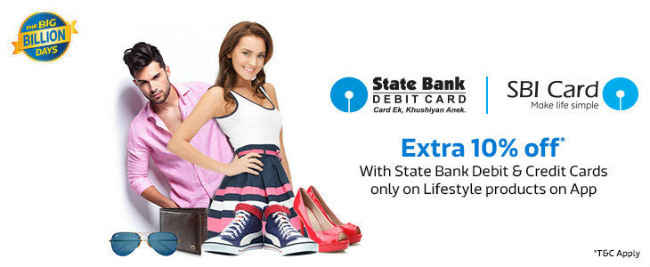 Additional offers on specific banks
An option of buying expensive items on EMIs are also available, but make sure to check the rate of interest on the monthly installments. These rates vary in different banks, and Flipkart only accepts EMIs on certain credit cards.
The Flipkart app also gives you the ability to store your Debit/Credit card information, making multiple purchases over the 5-day sale period a breeze. Remember, there are only limited products available during the 'Big Billion Days Sale', and this is not a brick-and-mortar store, where you can have snatch fights (ladies...take note again).
Check for Delivery timelines
Another important thing in your checklist should be looking for the product's estimated delivery time. The Flipkart app already has a constant notification that states, "Delivery times may be longer than ususal due to high demand currently."
In this case, you can get in touch with the Flipkart's customer care directly to get a better sense of your delivery date. Remember, last year, Flipkart's Big Billion Days Sale received a lot of flak because of customers having to wait almost a month before receiving their products.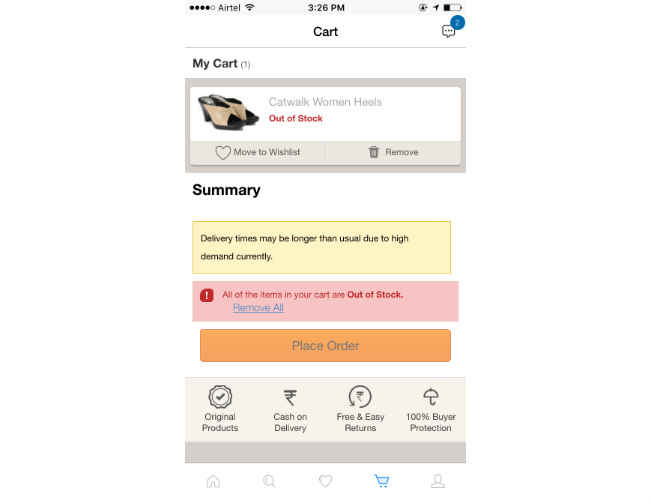 Delivery time debacle during the sale
Shop with Friends
You love sales, but you would like them better if you had someone to give you a second opinion. Unfortunately, your phone is your 'personal device', and in most cases you need to go for it alone. Not on Flipkart's watch, though. The Flipkart app has an integrated IM (Instant Messaging) facility, aptly called 'Ping'. The 'Ping' option taps into your contacts and lets you share your favourite products with your friends. Sharing options include sending pictures to your chosen contact directly from your 'Wishlist' or your 'Cart', and you can even share what you were just looking at through the 'Screen Share' option.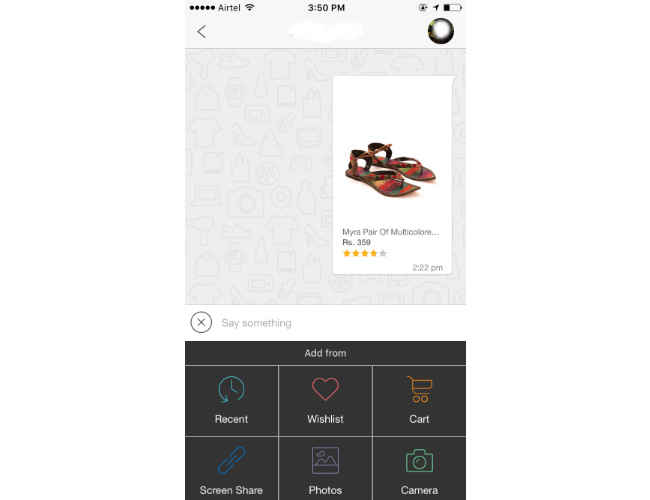 The in-app chat platform of Flipkart - Ping!
Offers & Deals for The Flipkart Big Billion Days sale
As we have told you before, Flipkart wants to win this maddening online sale race. So, to lure more cutomers to its app this season, the company has tied up with Via.com and is running a contest only from the 13th to the 17th. The offer states that if you install the Flipkart app, you may stand a chance to win a couple's holiday to shopping mecca - Dubai. The contest also gives you a chance to get up to Rs. 2,000 as 'Viacash', but remember, this offer is only open to First-Timers and New Logins.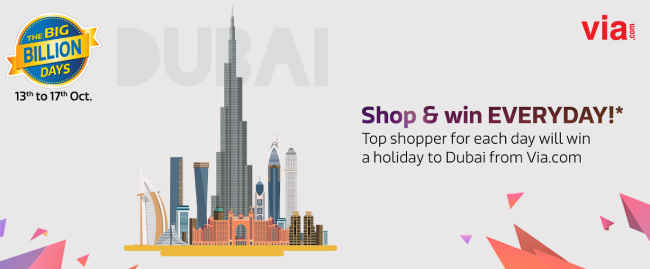 Choose wisely, from the extensive number of offers and discounts
A word of Caution!
Flipkart has more than 50,000 sellers on-board. Obviously, each and every seller cannot be trusted. There have been many instances of rogue sellers hawking dubious products. Articles like sunglasses, perfumes, branded clothing, consumer appliances are easy to fake. Even though Flipkart offers 100% buyer protection by deploying on-ground teams and mystery shoppers to check sellers, at times you may not even realise that you are flaunting around a sub-standard/fake product. Early this year, studies noted that the complaints registered against online sellers such as Amazon, Flipkart, Snapdeal and eBay accounted for 51% of the total e-commerce complaints received last year.
So, play safe and shop hard, and if you have any more tips to add, make sure you visit our comments section below!
Other Popular Deals
Samsung A7 2016 Edition Golden

Rs. 18990 *

Buy Now

Redmi 6A (Rose Gold, 2GB RAM,...

Rs. 5999

Buy Now

Mi A2 (Black, 4GB RAM, 64GB...

Rs. 13999

Buy Now
*Includes Cashback
​