Jon Brod, a former AOL executive has launched an app aimed at professionals called 'Confide'. The Snapchat-like app allows professionals to send private messages to each other that disappear once read.
According to Brod the 'Off the record' messaging service can work in the place of phone conversations, communications and confidential emails. The app doesn't have a word limit set for messages though the app reveals messages in about 25 characters as an added layer of protection against screen shots. Users can download the app from the Apple App Store for store and connect with other users through an email that directs the reader to the app.
The app's interface looks like an e-mail inbox, where the text is covered by colored boxes that that the user has to run his fingers over to remove. The previous words are covered once read, making the message more difficult to copy via screenshot.
Co-founder Lerman states that Confide's additional security advantage, is the end-to-end encryption. He states "We don't have the technology to read your messages," says Lerman and adds Confide doesn't store any messages on its servers, it doesn't have the ability to retrieve them if NSA or any other company asks for the data.
Brod revealed that the idea for the app materialized when Brod and Lerman wanted to discuss a recommendation for a potential new hire for Lerman. They didn't want a digital record of their conversation and so it took them nearly six days to finally connect by phone.
Brod, is the co-founder of the news site Patch that was bought by AOL in 2009, stated that "Confide is concentrating on attracting people to use the app rather than on revenue".
"This is optimized for professionals and business people," said Brod, who co-founded Confide with Yext co-founder Howard Lerman and entrepreneur Dan Sutera. "It's up to the person, company and industry to understand and abide by compliance," he added.
Snapchat the popular messaging app which allows users to send self destructing messages was recently hacked which affected more than 4.6 million users. The company has released an improved version of its app to prevent future leaks after the hack.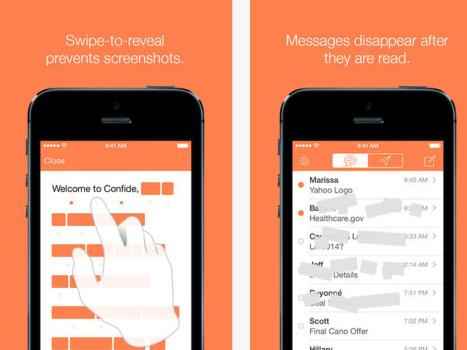 Source: Reuters