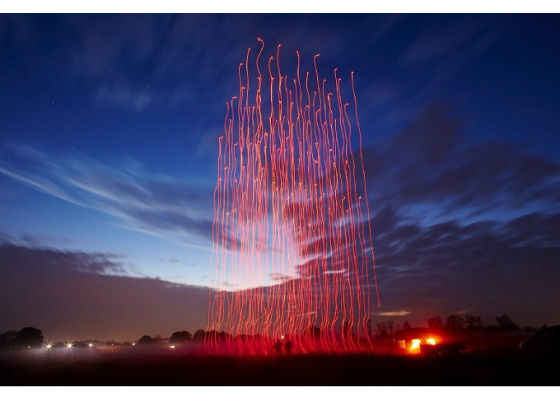 The Internet of Things enables the coordinated operation of multiple devices across diverse environments. Aerial drones provide an exciting demonstration of this capability in action and a number of public displays recently have drawn interest in the opportunities provided—using drones for both commercial and philanthropic endeavors. To further these goals, Intel is investing in both drone hardware and software technology, as well as the establishment of the regulatory framework within which drones will operate in the US.
On the technology side, Intel's acquisition of the German firm Ascending Technologies strengthens the roadmap for ongoing development of small drones equipped with algorithms to help prevent aerial collisions. Ascending Technologies software complements Intel® RealSense™ image and depth-recognition technology. Collision avoidance is critically important at a time when regulatory rules are being instituted and public awareness is rising.
In early May 2016, Intel CEO Brian Krzanich took charge as leader of the Drone Advisory Council, established by the Federal Aviation Authority (FAA) as a way to provide recommendations in respect to drone technology. Krzanich commented:
"As a technology partner in the UAS ecosystem, our work at Intel has given us relevant insight into issues faced by a wide range of stakeholders. The creation of the Drone Advisory Council is an excellent step forward for all in this industry."
Intel's sponsorship of the Drone Zone at the Mobile World Congress in February of this year is another indication of how seriously the company believes in drone technology. Intel® RealSense™ technology embedded in the drone aircraft brings perceptual computing capabilities to these devices, analyzing sensory input in ways similar to the human eye. Drones have the potential to become winged messengers across the IoT ecosystem, bridging the lightning quick responsiveness of Internet communications with the practical, real-world considerations of moving physical objects from place-to-place or gaining an elevated view of installations, terrain, agricultural operations, or infrastructures. AT&T is also working with Intel in this area to develop business applications for drones, leveraging IoT technology.
And, even more recently, Intel obtained FAA approval to become the first company to enact manual control of multiple drones by one pilot under the Section 333 exemption, lighting up the sky over Palm Springs, CA in an orchestrated aerial display carried out with precision to spectacular effect.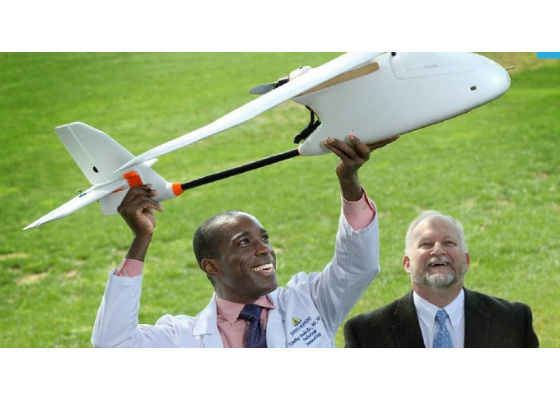 Dr. Timothy Amukele at John Hopkins School of Medicine is exploring the potential of drones transporting diagnostic samples to pathology labs in isolated regions.
As another practical, real-world example, the potential of drones to deliver medical assistance in difficult-to-reach areas was highlighted in the article Drones for Social Good. A pilot project in rural East Africa has been testing the effectiveness of using drones to transport blood samples and perform remote diagnosis of diseases. Initial results look promising.
Among other commercial uses of unmanned aerial vehicles (UAVs in industry parlance) are:
Live surveillance and inspection of oil, gas, and renewable energy structures
Research surveys in remote regions where travel is difficult or conditions are hazardous
Smart-farming applications using multispectral and hyperspectral sensors to map crop yields, detect pests, control irrigation, and ensure better nutrient distribution
Overseeing complex construction projects from an airborne perspective
Providing emergency relief supplies to people in areas struck by natural disasters, including floods, earthquakes, mudslides, and hurricanes
Delivering essential information to insurance companies in a variety of industries for better risk management
Delivering critical parts, mechanical devices, electronic equipment, or medications in regions where ground travel is difficult or impossible
Locating lost hikers or children separated from families in wilderness areas
Helping fight extensive forest fires by supplying vital information to ground crews and supervisors
Monitoring sharks in coastal waters to protect swimmers from danger
For the commercial sector to take hold in this space, safety considerations, supporting software, and ongoing innovation will be necessary. Developers can be on the launch pad of a burgeoning area of new business opportunities as IoT takes to the air.
For more such intel Modern Code and tools from Intel, please visit the Intel® Modern Code
Source : https://software.intel.com/en-us/articles/beyond-the-drone-zone
Other Popular Deals
Samsung A7 2016 Edition Golden

Rs. 18990 *

Buy Now

Redmi 6A (Rose Gold, 2GB RAM,...

Rs. 5999

Buy Now

Redmi Y2 (Gold, 3GB RAM, 32GB...

Rs. 7999

Buy Now
*Includes Cashback
​