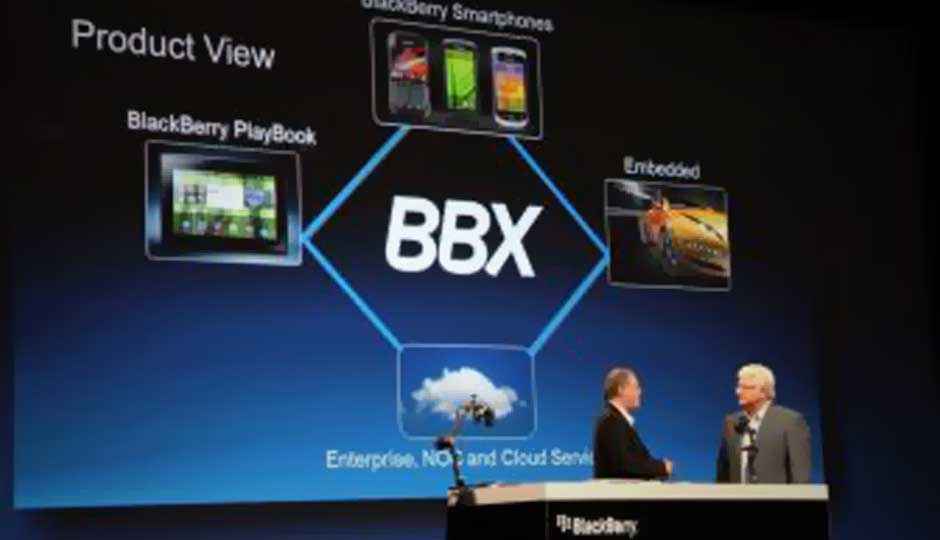 Research in Motion, the Canadian manufacturer of the BlackBerry smartphone platform and Playbook tablet, has announced a new operating system. Named BBX, it is termed as the "best of BlackBerry and QNX to provide a next generation platform for BlackBerry smartphones and tablets."
In April last year, RIM had announced its acquisition of QNX Software Systems. Soon, the news of being able to
port Android apps to your BlackBerry Playbook
were doing the rounds. Now with the focus being on HTML5 apps it will be easy for any software developer to package an HTML5 page as an app and port them easily to any platform of choice.
It was a similar environment amidst the host of announcements at Adobe MAX 2011 where the acquisition of Phonegap now allowed developers to reach out to multiple platforms including Windows Phone, bada, Symbian, BlackBerry, iOS and Android – all from the same code base!
Although platforms such as iOS and Android have captured significant market shares, respectively, there seems to be a restriction in terms of resource deployment, development costs and returns associated when cumulatively analysed. Using proprietary development environment such as Adobe Flash Builder, or open source alternatives such as Phonegap you could now deploy applications across all popular platforms instantly.
Similarly, with this recent announcement of BBX, you'd now be able to enjoy the latest and most exciting apps on your BlackBerry devices. Who knows, your favourite Angry Birds could be just around the corner!
According to BlackBerry, Development environments supported by the BBX platform include HTML5 with BlackBerry® WebWorks™, Adobe AIR, Native C/C , and the BlackBerry Runtime for Android Apps. Apps built today for the PlayBook tablet will also run on BBX. Additionally, BBX will include the new BlackBerry Cascades UI Framework for advanced graphics, also demonstrated during the General Session Keynote. BBX will also extend the core BlackBerry DNA of collaboration, communication and immediacy, with familiar "Super App" capabilities such as deep integration between apps, always-on Push services, BlackBerry security, the BBM™ Social Platform and much, much more.
For more details on development in BBX, visit the BlackBerry page here.