Waking up early in the morning is painful. Well, not for everyone but the ones who struggle every morning to wake up for college or work, there is someone who is trying to help you. Mimicker Alarm is all set to make you hate alarms since turning it off won't be easy. The new alarm app doesn't only present a quirky way to wake you up but also showcases Microsoft's prowess in machine learning. The app comes from Microsoft Garage, the company's portal for experimental projects where you'll find many such interesting products. Although there have been several apps earlier that make you do terrible things to wake you up like solving math problems, this might drive you crazy.
Mimicker works like a normal alarm app, the only difference here is you'll have to play a game in order to stop the alarm. There are several ways the app tries to drive out your sleep and you get to choose them while setting the alarm. The most irritable method has to be the "Tongue Twister", since it's difficult to even speak when you're half awake. Another option called "Express yourself" asks you to take a selfie and also throw an emotion displayed on the app. This option will surely be welcomed in the community that uses the #WokeUpLikeThis hashtag frequently on social media. The last option, "Color Capture" will ask you to capture an image containing a colour and no, they aren't evil enough to ask for a specific shade. The game is pushed by five minutes when you hit the snooze button while dismissing the alarm gives you only 30 seconds to finish the game, otherwise the alarm starts ringing again. You can pick individual games or select all the three if you're feeling adventurous enough (on selecting all the games, they randomly appear when the alarm goes off).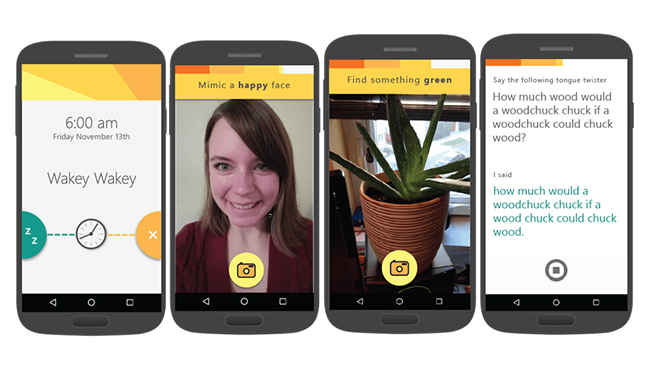 You might wonder that the various methods might be fun and games. The primary idea to notice is the machine learning at play. "Tongue Twister" is a regular speech-recognition module, but the other two aren't exactly mainstream features. "Express yourself" scans your face from the selfie you capture and tries to determine your expression. If the alarm doesn't go off through this game, you might have to endure making more faces at your screen. Finally, "Color Capture" scans the different colours captured in your picture and then tries to detect whether it falls close to the desired colour.
This is indeed a fun way to wake up in the morning rather than switching off the other mundane alarms. Mimicker Alarm app is currently available on the Google Play Store.
Other Popular Deals
Samsung Galaxy J7 Nxt 32 GB...

Rs. 10990 *

Buy Now

Moto G5s Plus Gold 64gb

Rs. 12049 *

Buy Now

Oppo F9 Pro

Rs. 20890 *

Buy Now
*Includes Cashback
​