Google announced yesterday the Android Market has hit a new milestone – 10 billion apps downloads. The search giant also revealed the Android Market is a fast accelerating growth, currently at nearly one billion app downloads per month.

To celebrate, Google has partnered with various Android developers whose apps contributed to this reach this milestone, making some of their full apps available for just 10 cents for the next ten days.
Each day a new selection of apps will be available, starting with Asphalt 6 HD, Color & Draw for Kids, Endomondo Sports Tracker Pro, Fieldrunners HD, Great Little War Game, Minecraft, Paper Camera, Sketchbook Mobile, Soundhound Infinity and SwiftKey X.
Visit the Android Market to keep abreast of the which apps are available on each day of the limited period offer. Check out the infographic below showcasing the stellar growth: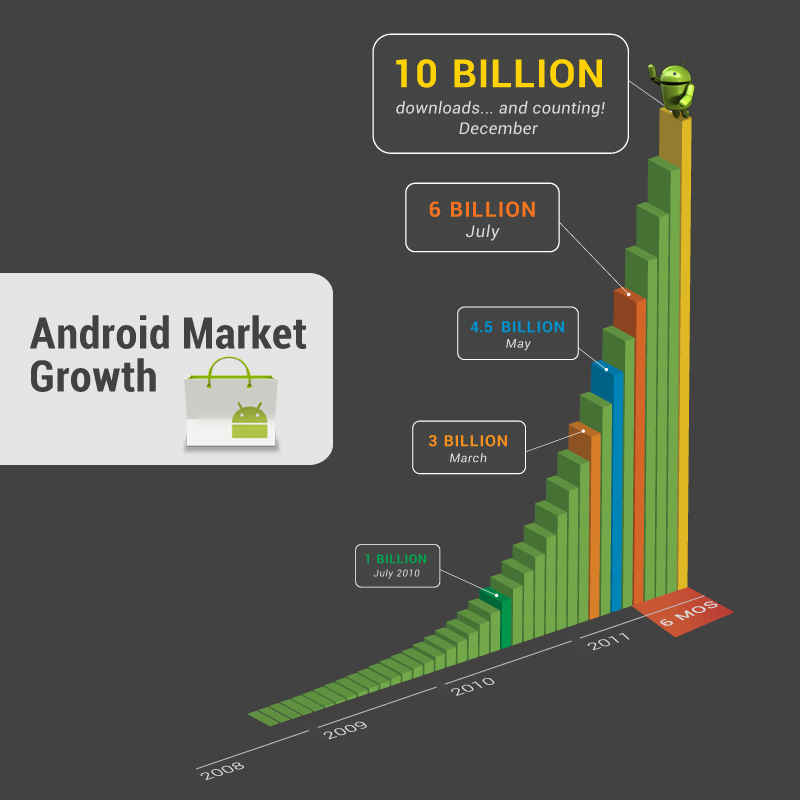 Vote and Win!

Digit Icons of Trust 2011 Survey

Visit https://thinkdigit.com/trust to vote for your favorite tech brands in India.
Survey participation gives you a chance to win exciting gifts like wireless input devices, earphones and special edition Digit branded T-shirts.
As an appreciation of your valuable time and input, every participant will receive an assured gift in the form of Digit discount vouchers.
We encourage you to participate in multiple surveys to increase your chances of winning more goodies.