Diwali is just around the corner and most of you must already be in a festive mode. At such a time, one wants to just kick back and take in all the fun, but Diwali chores can be pretty challenging. Fortunately, we live in the era of apps that have become our personal assistants for a number of services. India can easily be termed a nation for service oriented start-ups and most of these start-ups have apps that cater to an incredible range of needs.
So, we at Digit decided to compile a list of Diwali specific apps for the two most popular Ecosystems- the iOS App Store and the Google Playstore. In this listicle, we attempt at highlighting apps for the two individual stores as well as apps that are common to both Android and iOS. Let us begin by listing some Diwali themed apps for Android.
Android Apps for Diwali
Diwali greeting cards maker
Gone are the days of sending Diwali greeting cards by post. Its a little sad but we have a cooler, faster alternative for you. Find the Diwali Greeting Cards Maker app on the playstore and you can customise your greeting cards the way you want. The app comes with some pre-loaded cards featuring renditions of Lord Ganesha, Goddess Laxmi, auspicious diyas and crackers. Users can also customise a greeting to include selfies, family photos and other images from the phone's media gallery. There's also an option of adding pre-loaded Diwali quotes abd stickers and if you really want the extra personal touch you can also sign the greeting cards with the signature option, which turns the card into a canvas and lets users draw or write in various colours. Once you are set on the card of your choice, you can save it as a photo on your device and share it with all your contacts or alternatively on Facebook or Twitter.
Firework Diwali Live Wallpaper
Imagine this, its Diwali and everyone you know is in the festive mood but you are stuck in office working late. Maybe you are travelling overseas and constant calls from back home are a cruel reminder that you are missing the one festival where the whole country is lit up like a chritmas tree. Well, if you are that person, we sympathise with you and recommend you make the most of what you have in your hand to feel a little festive.
There are countless apps available on Android which can turn your smartphone screen into a beautiful live wallpaper customised for the Diwali enthusiasts. One such app is Firework Diwali Live Wallpaper. The app is a tiny 5.7 MB download and it does just what its title suggests. Using the Firework Diwali Live Wallpaper app users can set a live wallpaper which depicts a city skyline on Diwali night. The app lets you increase or reduce the intensity of fireworks and select different backgrounds for the skyline. It also gives users the ability to add stars, birds & aeroplanes to the background. There's also an option for a fireworks sound effect, which can be turned on or off as per the user's preference. The only problem with this app is that it is riddled with ads which can be a little distracting while setting up the wallpaper, but once its done, you can sit back and see your virtual Diwali city come to life on your smartphone screen.
Diwali Dhoom
Crackers are passe and if you are still bursting them, you need to look up some of the recent reports on rising air pollution in the country. Our advise- ditch the real crackers and get ready to play with some virtual ones. If you are itching to burn some crackers then Diwali Dhoom is the game for you. It's a simple game and even though it has just about 10K downloads on the Playstore, the game is a lot of fun.
The objective of the game is to aim and burst crackers with a bow and arrow. The tip of the arrow has a small burning flame and players need to aim and shoot crackers sligned in front of them. There's also a stage where players need to shoot at lantern shaped crackers flying in the sky. All crackers have different exploding animations, very similar to their real counterparts and the difficulty level of the game keeps increasing with each stage. So, make this Diwali eco-friendly and celebrate with some virtual dhoom instead of real dhamakas.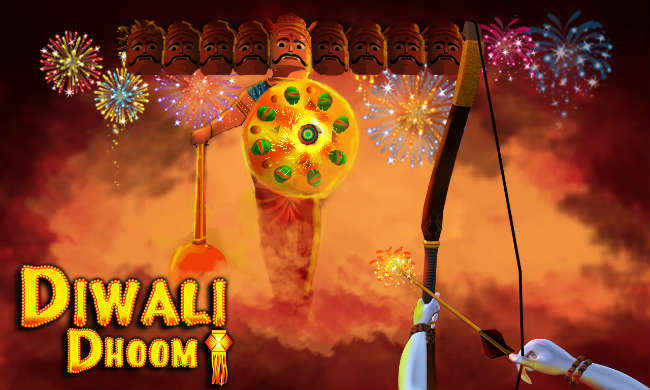 Rangoli for Diwali
Rangoli is a Diwali must. Intricate rangoli designs can be spotted everywhere during Diwali season, but if you are someone who's best left doodling, here's your chance to beat some Rangoli masters this festive season. The Rangoli for diwali app helps you create beautiful designs from their pre-loaded selection of designs. The app provides a simple 4-step instruction set for each design, which helps users judge the amount of space required to create the design as well as instructions for drawing using a dot based template.
Playstore has a bunch of other apps also available but Rangoli for Diwali is one of the few that comes with instructions.
Diwali Safety Tips
The app does what the name suggests. The Diwali Safety Tips app has a set of 20 safety tips to avoid accidents that occur due to negligence, carelessness and most of all- Fireworks. The app is a good guide to have in your pocket while fixing electrical lights around the house or while decorating with earthen lamps. Most of you can alternatively google these tips aswell but the app covers a range of possible screw-ups (for the lack of a better word) that one might encounter during Diwali. Safety should not be taken lightly on a festival that involves fire, crackers and lots of electrical wiring.
So, this year, play safe and have an 'app'tastic Deepavali!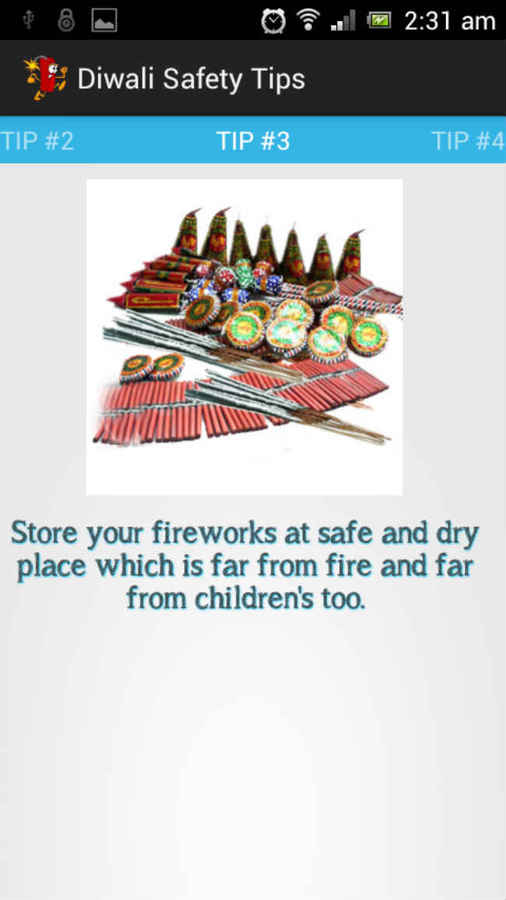 iOS Apps for Diwali
Diwali 2015
Diwali 2015 is a one stop shop for your greeting and prayer needs. The app gives you a set of pre-loaded test greetings, which you can either copy and paste into your messages or send directly through the in-app Whatsapp connect button. The app also has cards for Dhanteras, Choti Diwali, Diwali, Govardhan pooja & Bhai Dooj. The Diwali 2015 app also has 3 Aarti's (prayers) which can be played from within the app.
Cracker Boom
Cracker boom is sweet little game for you or your kids. The game is simple. it provides players with a constant set of crackers that they need to burst by interacting with the screen. The catch is that all the crackers that you burst should coincide with the list of crackers being displayed on the top of the screen. If you burst too many wrong crackers, you loose the level and have to replay it again. Try out the game, it might save you from the boredom of the countless meet and greats this festive season.
Diwali Photo Frames
This app lets users create personalised greeting card with pictures takes from their iOS devices. The app is easy to use and place selected pictures in pre-designed frames with Diwali themes. Users can also add text to the frame, modify image sizes and finally share their frames on Facebook, Twitter or Whatsapp. The only downside of creating frames with this app is the tiny watermark on the bottom of the final frame.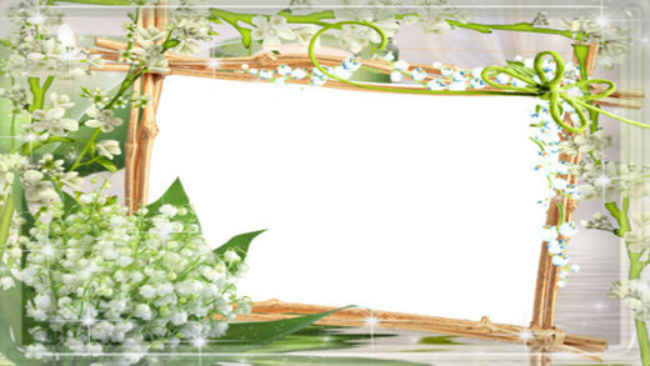 Common Apps on Both iOS & Android
1mg
Diwali being the festival of lights is great but unfortunately the festive season comes with its own set of dangers. While we hope most of you stay as far away from crackers as possible, unforeseen circumstances can result in injury. We hope this Diwali is a safe one for you but just incase you find yourself in a tough spot apps like 1mg can come in handy. 1mg is an all-in-one health app which also delivers prescription medicine. The app tells you about medicines and their possible side-effects along with cheaper options for overpriced products. The app also helps locate nearby doctors and book lab tests, home collections. The app is available on iOS & Android as 1mg but the same app is also available for Windows phone users as HealthKart Plus.
Urban Clap
Diwali is usually that time of the year when you think of getting your house repainted or fix some broken leaks or mabe you need someone to put the lights up. Well, we can now do all that without moving a muscle. Okay, maybe just one muscle. Much to your tapping finger's curiosity, we now have apps for such services. Urban Clap is one such app. Using Urban Clap you can book services ranging from AC servicing, Carpentry, Electrician jobs, Plumbing, pest control and much more. The special Diwali services section on the app also includes Salon services for women, which may help glam-up for the festive season.
Urban clap also lists photography services as an option and helps in providing quotes on different photographers, just in case you are planning a big Diwali gala.
Pixlr
A lot of you may have heard of the pixlr photo editing app but nonetheless it's an app that deserves to make this list. The pixlr app has a very user friendly interface and gives users the ability to quickly edit pictures taken by their devices. The app also lets you make collages, which can be a fun way of recording those festive moments. It has various options for applying effects and overlays on images as well as an option for building different styles. Edited images and collages can then be shared on social media platforms like facebook, Twitter or Instagram directly from the app. We know there are many editing apps out there but we like this one for its ease of navigation and clean UI.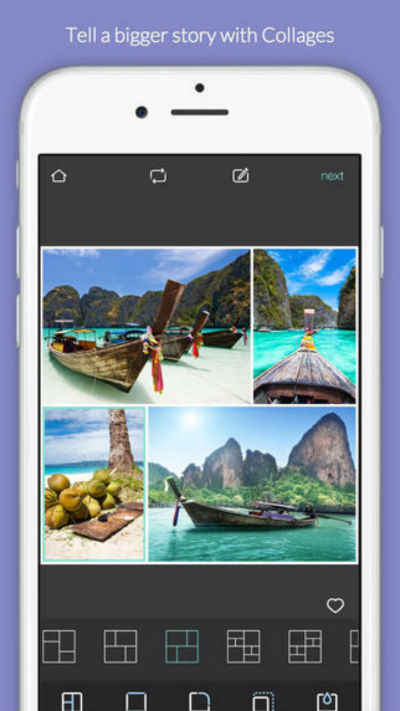 PhotoBlender
Ever seen the title sequence for True Detective? No, not the new season. We are talking about season 1, where detective Rust Cohle makes you want to live in a rusty old town with a psychopath on the loose. If you did notice the cool blended effect on that title sequence and wondered how to create something similar, we have an app just for you. Photoblender will allow you to merge and blend two pictures together to create an interesting image that's sure to impress and what better time to use it than the festive season! Users just need to pick 2 pictures, blend them together, edit them with some cool in-app effects and finally, share the image through the various sharing options available.
There are various other apps that could make this list but the again, there's an app for almost everything these days. If you want to add to this list, please feel free to leave a comment below. Hope you have a happy and 'app'tastic Diwali!
Other Popular Deals
Samsung A7 2016 Edition Golden

Rs. 18990 *

Buy Now

Realme 1 (Diamond Black, 4GB...

Rs. 12990

Buy Now

Redmi 6 Pro (Black, 3GB RAM,...

Rs. 9099

Buy Now
*Includes Cashback
​