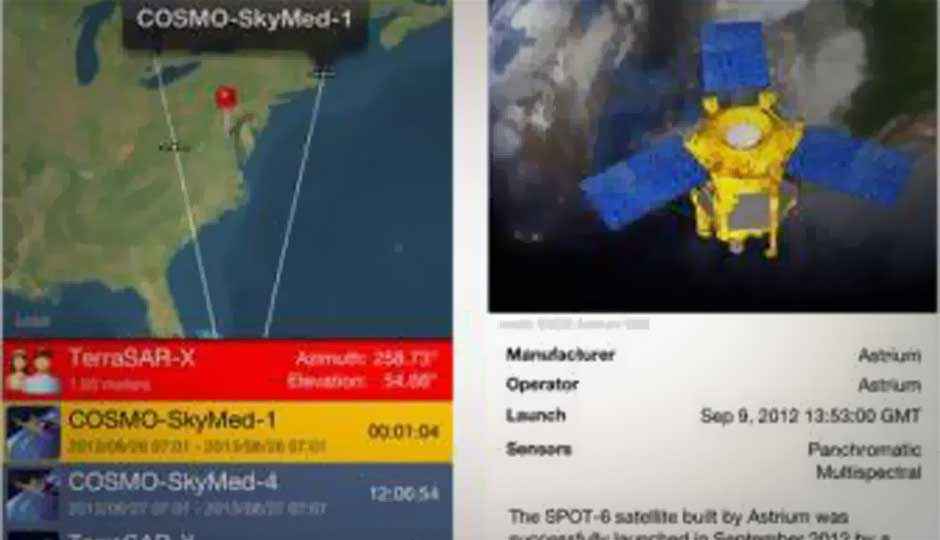 Orbit Logic, an American company, has developed SpyMeSat, the first of its kind app designed for iPhone, iPad and the iPod Touch, that notifies users when they are within range of an imaging satellite that could be taking their pictures.
You can set SpyMeSat to give you alerts for any location, call up resolution specs for each model, track satellites even when they're not overhead and learn about their various on-board sensors. The user can look up the imaging resolution information displayed as the satellite flies overhead, see a dynamic map graphic update with real-time position, look at the details of any pass and even see a picture and description of the satellite.

All of the imaging satellites in SpyMeSat are in low-Earth orbit at an altitude of about 805km. It can give you accurate data up to 16 meters. Users can check data from satellite models that are owned and operated by either public or private bodies, including GeoEye, India's CartoSat-2A, the French space agency's SPOT-5, Canada's RADARSAT-2 and DigitalGlobe's WorldView satellites.
SpyMeSat was created by Orbit Logic Inc., a company that specializes in supplying software to the aerospace and intelligence communities. The app's chief purpose is to gather all that data into one cheap smartphone app.
"I actually got the idea for the app from talking to friends outside the aerospace industry who were always very interested in space and satellites and imaging from space. This app answers those questions in a fun and interactive way," said Alex Herz, president of Orbit Logic in Greenbelt, Maryland which developed the app.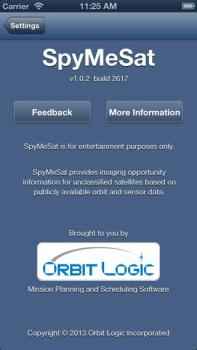 Source: Space.com