There comes a time in every smartphone owner's life where you just don't have the inclination (or finances) to spend on every single amazing app that gets launched for your device. And with the dozens (if not hundreds) of apps that get launched every week, it becomes particularly important for a smartphone user to spend time and money on apps which will actually be used. If you're a smartphone user who would like to try out the latest and greatest apps but don't want to waste time on apps that will waste yours, check out these free apps that not only tell you which app is worth downloading, but also if an interesting app has gone free or is available at a discount.
Apps Gone Free (iOS)
Size: 30.8MB
The granddaddy of app curation apps, Apps Gone Free is an essential download for all iOS users. Every night between 10 to 10:30 (IST) the app provides a list of noteworthy apps that have gone free for a short time. In fact, many app developers also tie-up with Apps Gone Free to distribute their apps for free in order to popularize the apps.
The app itself has a very simple format with apps arranged in a vertical scrolling list with a small descriptor, the app's actual price and the iTunes user ratings. The app also very clearly states the device for which the app is intended. Clicking on an app takes you to the page with a larger description of the app and screenshots where you can choose to download the app. You can also browse through previous lists where, if you're lucky, you'll spot an app that is still free to download. Apps Gone Free also tags certain apps as 'Hot', if they're popular or 'Bumped', if a certain app has been recommended enough times by users.
The fantastic thing about Apps Gone Free is that it regularly showcases quality apps that you would have probably overlooked. The people behind the app do a great job of tracking apps. If you have an iDevice, there's absolutely no reason why this app shouldn't be on it.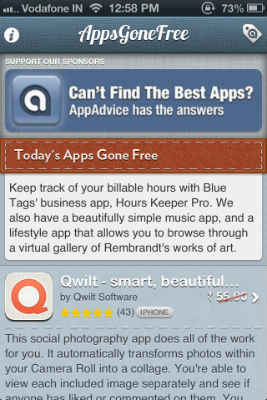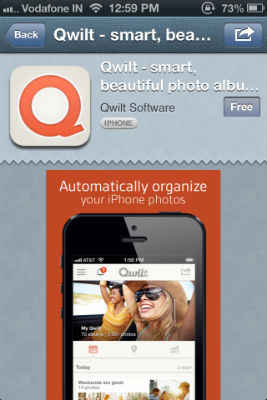 Apps Fire (iOS and Android)
Size: 14.2MB (iOS) 2MB (Android)
If you have Apps Gone Free on one hand with its clean interface and daily list of 5-10 apps, you have Apps Fire, on the other, that has literally hundreds of apps which are currently free, on discount, or just interesting enough to know about. Apps Fire lets you classify its feed into sections like 'Best Deals Today' or sections with the best deals on apps of different categories like gaming or productivity. Every app is also rated out of 100 by the people behind the Apps Fire which is extremely helpful in deciding whether an app is worth downloading. The app offers absolute freedom in the way you want to view its feed and lets you add dozens of personalised streams for apps belonging to multiple categories.
The app may look like it has gone overboard with its interface, but after using it for a while you'll realise that the interface really aids in letting you browse through dozens of apps quickly. And believe us, once you enter the Apps Fire app, you'll probably spend hours browsing and downloading all the featured apps. One thing that separates Apps Fire from Apps Gone Free is that it also shows you discounted apps and not just free apps. This is a good feature since there are many apps that never go free but do see heavy discounts. Apart from just listing apps, Apps Fire also lets you create wishlists or set price alerts for certain apps. The app also includes an 'App Pulse' section that shows news about popular apps.
If you're addicted to trying out new apps on your iPhone or your Nexus, Apps Fire will only intensify your addiction. And that's probably a good reason as any to download it.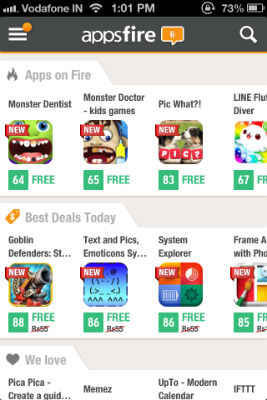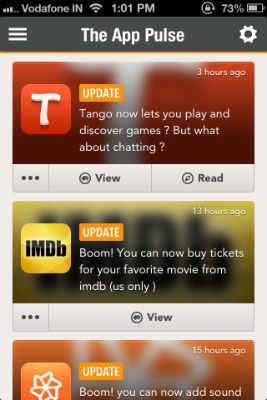 Best Apps Market (Android)
Size: 1.3MB
With the abundance of free apps available for download on Android devices from the Google Play Store, it's surprising to see that there aren't too many high quality app curation apps out there. Fortunately, with an app like Best Apps Market (BAM), you won't really miss out on much. At first glance, BAM may not look like much but beneath the sparse interface lies a powerful recommendation engine that directs you to awesome Android apps. Like the apps above, BAM's team also maintains lists such as the hottest apps on a particular day, the most popular apps ever and apps that will help you customize your Android phone, among many others.
Once inside a list, you can also arrange it according to its price (or lack thereof) and by recency. The app also provides easy access to its exhaustive database of user reviews to help you decide if you'd actually want to download a particular app. The app also has a huge number of specific lists for multiple categories and, in that way, is similar to Apps Fire. Android users should definitely download BAM but be prepared to spend a lot of time using it.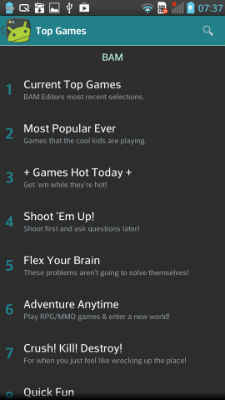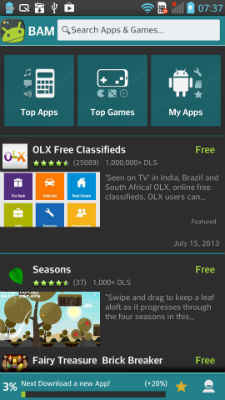 FreApp (Android)
Size: 4.3MB
FreApp is another app that combines usability with utility. The main feature of this app (as hinted at by its name) is that it showcases apps that have gone free for the day. Apart from those free apps, FreApp also has a whole bunch of lists and apps arranged according to categories and types. The FreApp team also rates and reviews apps that they recommend to confirm that the entire app is free and not subject to trial conditions. FreApp also boasts of real-time notifications so that if there's a change in pricing for an app or if its gone free, you'll get to know almost immediately. FreApp also keeps an account of the apps you've already installed on your device and shows you related downloads or any updates by the app makers.
If you want to keep your finger on the pulse of the Play Store, FreApp should serve you well.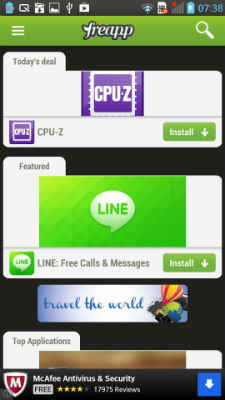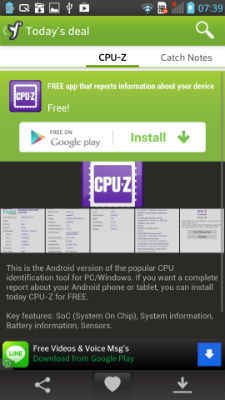 WP7 Applist (Windows Phone 7 & 8)
Size: 1MB
Like we noticed on Android, Windows Phone also doesn't have too many apps that keep a track of app discounts and sales. However, WP7 Applist does a good job of helping you populate your Windows Phone device with interesting apps without spending too much money. The app is powered by the WP7 Applist website, which is an exhaustive directory of all the apps available for Windows Phone. As a result, it serves as one of the best options if you're looking to track app prices and get notified if an interesting app goes free.
Despite its name, the WP7 app works with Windows Phone 8 and keeps a track of all compatible apps. It utilizes an interface that's very similar to the Windows Phone Store with featured app tiles, a powerful inbuilt search tool and the ability to filter apps by price and ratings. According to the WP7 Applist website, it has a database of almost 130,000 apps out of which about 68% are free. The app also has a Live Tile that you can pin to the start screen of your Windows Phone device. The Live Tile displays a bunch of interesting stats including the number of apps available on the Windows Phone Store, updates available for your apps and the number of apps released over the last day.
If you have a Windows Phone device and want the best and latest apps on it, WP7 Applist will be quite helpful.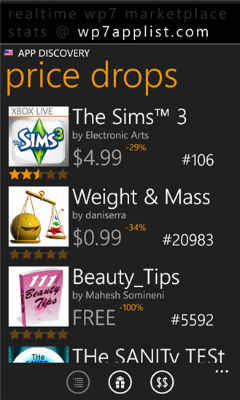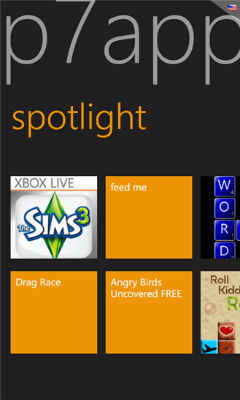 Apart from these app-trackers, you can also simply rely on the curated lists present in your app store of choice. Both the Google Play Store and the iOS App Store have app lists that are regularly updated. Most deals or discounts on popular apps also show up regularly on the app store's homepage. So, even if you're new to the world of apps, relax, log into your phone's app store and spend some time browsing through the featured apps. You won't regret it.
Did we miss out on your favourite app? Let us know in the comments below or on Twitter @digitindia