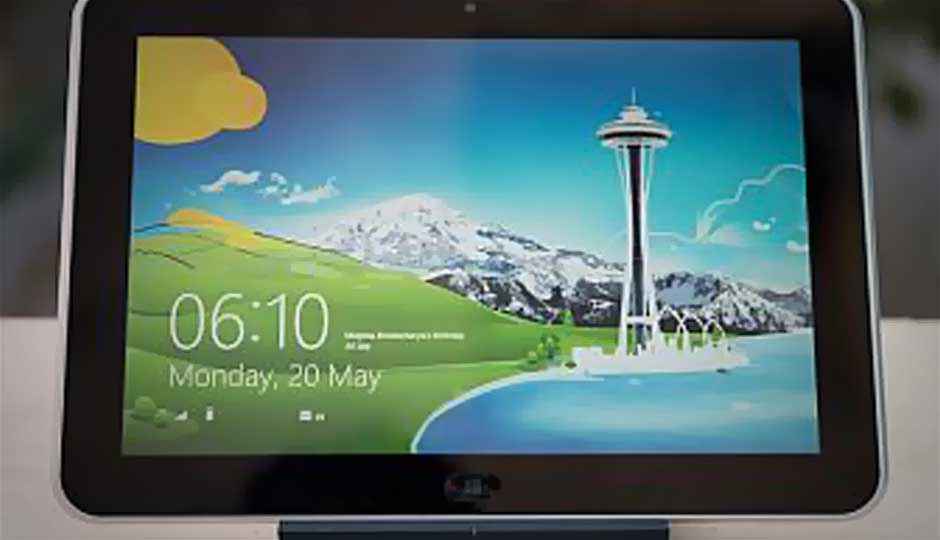 HP ElitePad 900 Price in India

43500/-
HP's first enterprise Windows 8 tablet gets the test treatment in our labs as we find out whether it deserves a space in your precious board-room.
HP ElitePad 900 Rating

0

100
Our Verdict
The HP ElitePad 900 is the company's first Windows 8 tablet for the enterprise and it is one well designed slate. It's got Gorilla Glass 2 on the front and brushed aluminium finish on the back and there's not a millimetre on this thing that will make you feel like the company cut corners on style. It is indeed quite sturdy and elegant at the same time, but it runs off of an Intel Atom processor and just 2GB of RAM. Is it sufficient enough hardware to meet the demanding challenges of a business man? We find out in our review.
PROS
Incredibly light
Rounded edges make it easy to hold with one hand
Responsive touchscreen
CONS
No USB ports on the tablet itself
Additional accessories required to make the most of the tablet
Performance is average at best
HP ElitePad 900: Detailed Review
The HP ElitePad 900 is the company's first foray into the business tablet segment, and what a gorgeous tablet it is. As an enterprise solution, the tablet runs off a dual-core 1.8GHz Intel Atom processor (Z2760) along with packing 2GB of RAM and Intel HD onboard graphics. The Windows 8 tablet is impressively thin and light and looks elegant enough to be a part of any board-room, but does the performance match the looks? We find out.
Build and Design
The HP ElitePad 900 is probably the most beautiful tablet to ever roll off HP's production lines. It's got a machined-aluminium back which lends an excellent texture to the tablet. Simply put, we're not sure why you would want to put this puppy into a case. The left side of the tablet (if you're holding it horizontally) houses the volume rocker, which is quite flush. It's easy to find, and quite well placed. Your fingers will naturally gravitate towards theses buttons when you want them to, but you won't find yourself accidentally changing the volume. On the opposite end, you will find a rather clandestine slot that is designed to house a micro-SIM card along with a microSD card. The top side of the back is covered in a rubberized black patch, which is where you will find the 8MP camera, accompanied by a single LED flash. The bottom end of the tablet has the stereo speaker grills along with the proprietary charging/connection port.
| | |
| --- | --- |
| | |
The front of the ElitePad 900 is all glass, with a decently thick bezel. The screen is a 10.1 inch IPS panel protected by Gorilla Glass 2. The screen has a display resolution of 1280x800, which is interestingly lower than the 1388x768 required by Windows 8 to Snap apps, but more on that later. The front bezel also includes a 1080p front facing camera for video calls, something we found rather useful through the course of using the ElitePad 900.
The ElitePad 900 has to be by far the most comfortable tablet we've handled up until now. The aluminium construction makes for an incredibly light tablet and the nicely rounded edged makes the ElitePad 900 very easy to use even with a single hand. The only problem with using the single handed approach with the tablet happens to be the fact that you will have to use your second hand in order to press the Windows Home button or even change the volume for that matter.
Performance
Now the ElitePad 900 is powered by an Intel Atom dual-core 1.8 GHz Z2760 processor, just like many other Windows 8 Pro tablets out there (such as the Dell Latitude 10 and even the HP Envy X2). The specifications sheet puts it comfortably in the enterprise realm. In our initial use of the tablet, we found that using Internet Explorer 10 was a rather good experience, with little to no lag. The only area we experienced some problem was when we switched from landscape orientation to portrait (and vice versa).
After a heavy dose of web browsing, we switched over to using the ElitePad 900 to prepare some spreadsheets and type up a few articles and this is where the ElitePad 900 was real nice. Since it runs on an Intel based processor, it therefore runs the standard version of the Windows operating system, meaning all your standard desktop applications can be installed onto the ElitePad 900. We installed a copy of MS Office and Lightroom to see just how much load the tablet could take. Now for our MS Office test, we attached a keyboard to make sure typing long documents wouldn't get awkward. While using MS Word was a piece of cake, we found that opening heavy files in Excel caused the performance of the ElitePad 900 to become slightly sluggish.
| | |
| --- | --- |
| | |
When we fired up Lightroom on the ElitePad 900 and loaded our 500GB Photo library from an external USB drive (on USB 3.0), we once again found the tablet to stutter a lot. Editing RAW files from a Canon 5D MarkIII and 6D were problematic as well. While the tablet is great for e-mails, web browsing and document work, we wouldn't rely on it too much for heavy duty tasks like editing photos or managing databases. This performance falls in line with the PCMark Score of 1456, which puts it ahead of the Dell Latitude 10.
But a tablet isn't just for work. WE like to have some fun too, and the ElitePad 900 doesn't disappoint in that regard. Playing full HD (1080p) video on the stock video player was absolutely smooth, as was the scrolling. The stereo speakers have decent audio output, but we wouldn't recommend relying on them if you want to watch a movie in a noisy environment.
| | |
| --- | --- |
| | |
Now the HP ElitePad 900 is a pretty decent performer for the average tasks, but for Rs. 43,500, it does seem like a pricey deal, especially give how one does not have access to USB ports. There are no USB ports built onto the tablet, meaning that if you want to have USB functionality, you must either purchase one of the sleeves or the Dock designed especially for the ElitePad 900, which adds to the cost significantly. In comparison, The Surface Pro costs the same as an ElitePad 900 along with a sleeve, but comes with a much higher specification. It sports an Intel Core i5 processor, 4GB of RAM, a full HD display and not to mention a stylus. In comparison, the ElitePad 900 feels rather underpowered for the money, seeing as there is a much more powerful option out there only for a fraction more.
Verdict
The ElitePad 900 is extremely well designed. It is comfortable to use and does the regular tasks of browsing the web and preparing documents and presentations well. It does not fare well in heavy duty tasks like photo editing or video rendering. For Rs. 43,500 a barebone tablet with 3G capabilities and a microSD card slot is all you get.
| | |
| --- | --- |
| | |
If you wish to fully utilize the potential of the EiltePad 900, you have to spend more as everything else is an accessory. Be it the stylus, or the expansion jackets (the batteries for which are also an optional accessory and hence cost extra), or the dock that gives you an Ethernet port, a full-size HDMI port, VGA Out and four USB ports. Everything that makes the ElitePad 900 a great enterprise solution cost extra, in which case, you might just as well go for a Surface Pro instead. The only upside to splurging on the ElitePad 900 along with its accessories would be the fact that with this tablet, you'd get HP India's warranty to back your purchase up whereas buying a Surface Pro from the US (as it isn't officially available in India) wouldn't come with an India warranty.