DataWind, the makers of the Aakash tablet, has announced two new UbiSlate tablets – Ubislate 7 and UbiSlate 7C. Both the DataWind tablets come with similar specifications, other than the display quality and internal storage. The Ubislate 7C is said to be the commercial version of the Aakash II tablet.
Priced at Rs. 2,999, the UbiSlate 7 runs on Android 2.3 Gingerbread OS and is powered by a Cortex A8 – 800MHz processor. It has a seven-inch resistive touchscreen with 800 x 400 pixel resolution. The device includes Wi-Fi and GPRS connectivity. Optional 3G modems are also supported. In addition to a micro-SD card slot, a full sized USB port is also integrated into the ubislate 7Where to buy

2999

3250

3499 .
The UbiSlate 7C, priced at Rs. 3,999, comes with similar set of applications except that it features a capacitive four-point touchscreen and 4GB internal storage.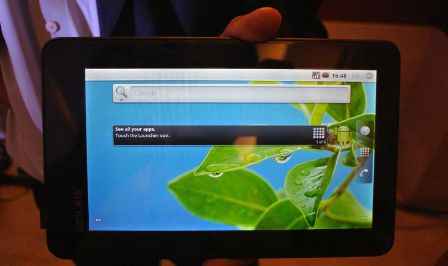 UbiSlate 7C
DataWind also unveiled its ecosystem of partners for providing content, applications and access. DataWind announced relationships with:
Aircel as its strategic operator partner to provide voice and data services
VMC Systems Ltd. as electronics manufacturing services partner, replacing Quad Electronics
Yahoo India for its portal, Yahoo! Mail and Yahoo! Cricket
The Indian Express Group to bring its users the news and analysis on the go
Reverie Language Technologies Pvt. Ltd. to provide over a dozen Indian languages including Hindi, Marathi, Tamil, Punjabi/Gurmukhi and many others.
Get Jar for providing access to over 350,000 software applications.
InMobi, an independent mobile ad network, to help deliver applications for free to consumers
Mango Learning solutions for game based educational modules, interactive smart books and the full CBSE curriculum.
RKS Learning Private Ltd. for TestBag, the most comprehensive solution for testing and e-assessment
Intelligia finger tracing apps to teach letter writing for toddlers
Pixatel for utilities and games created for tablet form factors
Poketalk for call back long distance services.
MyJobs for access to millions of job postings and resume submission.
Blueworld portal
On status of the ubislate 7Where to buy

2999

3250

3499, the retail version of the Aakash tablet, Datawind CEO Suneet Singh Tuli said that the customers who have booked the UbiSlate 7 device will receive the upgraded UbiSlate 7 tablet. The delivery of the Ubislate 7 has already begun, he added.
Tuli also acknowledged that the rift with the company's ex-vendor Quad Electronics has hit the Aakash delivery schedule. And now he is looking for more vendors to bring the Aakash project back on track.
The DataWind CEO also rejected the notion that the enthusiasm for the UbiSlate tablets was fading away due to the continuous delay in the launch. He said that DataWind is receiving 8,000-10,000 pre-bookings for the ubislate 7Where to buy

2999

3250

3499 per day.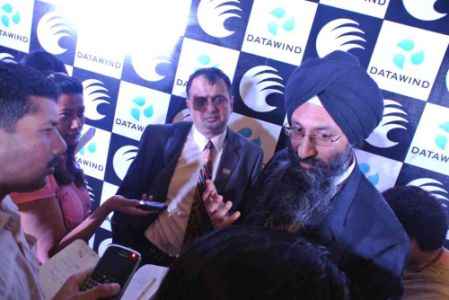 Datawind CEO Suneet Singh Tuli talking to reporters at the UbiSlate 7C launch event
Availability
Delivery of the ubislate 7Where to buy

2999

3250

3499 devices have started to consumers that have pre-booked on DataWind's http://www.ubislate.com/ webiste, and will continue over the next several months before retail availability. Delivery of the UbiSlate 7C devices is scheduled to begin end of May.
Also read,