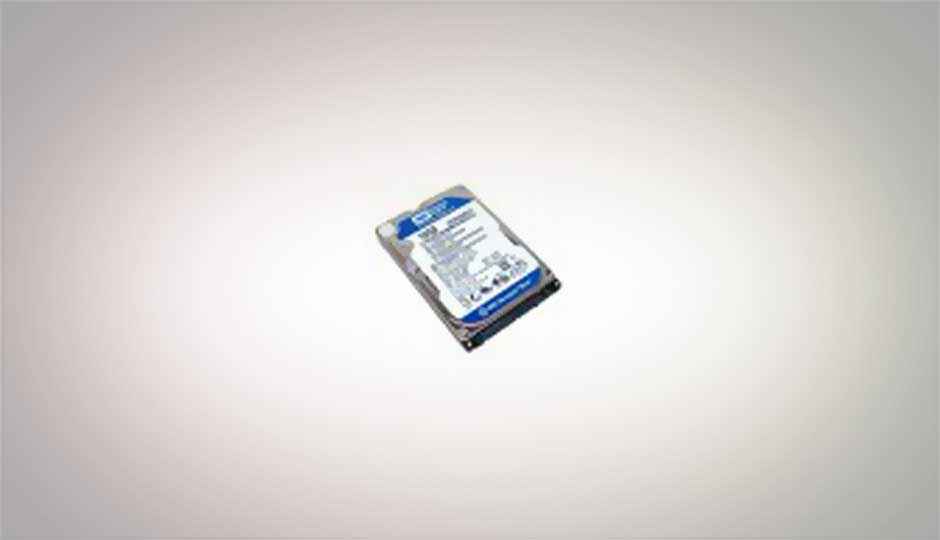 Western Digital Scorpio Blue 750 GB - Notebook storage gets a shot in the arm Price in India

8215/-
Western Digital Scorpio Blue 750 GB - Notebook storage gets a shot in the arm Rating

0

100
Our Verdict
750 GB is a lot of storage space. And the WD7500BVPT is a good performer. If you ignore the high MSRP (Rs. 8,215) and look to the street, you can find this drive for as little as Rs. 6,400 - a price point at which we cannot complain. 500 GB is at the sweet spot for capacity versus price however, and these drives are disproportionately cheaper. It will take a while for 750 GB to become the norm. If you can wait, prices might fall further within six months. However, if you need the space, and can afford to shell out, you'll definitely not be disappointed.
PROS
Good performance, at par with slower desktop drives
Just two platters and runs cooler as a result
Large storage capacity
Current street prices indicate reasonably good value
CONS
Performance still not at par with 7,200 rpm drives
WD provides a 3 year warranty for this drive, unlike 5 years for the Black Edition drives
Western Digital Scorpio Blue 750 GB - Notebook storage gets a shot in the arm: Detailed Review
With the entry of massive 3-terabyte drives in the desktop space, it's all too easy to forget advancements made in the notebook hard drive arena. And these are technologically harder to achieve. Notebook drives have a much smaller form factor than their desktop counterparts, despite the seemingly meagre one-inch difference in quoted size, notebook drives are positively diminutive when compared to desktop drives. They also have to produce less heat and less noise. Unfortunately, they don't get any concessions in terms of speed, for we run the same operating systems on them. We also received a shiny new Western Digital Black Edition WDC WD75000BPKT, which was announced at the CES 2011, that we will test shortly, and compare it to the Scorpio Blue 750 GB. The Blue Edition notebook drives are Western Digital's answer to those looking for a value-oriented notebook solution, since there are no Green Edition options in the 2.5-inch form factor.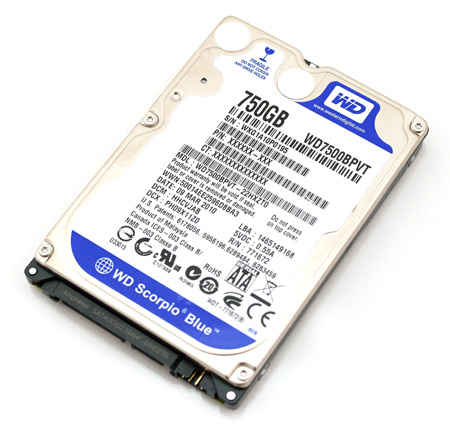 Look and Feel
It's a hard drive, so there isn't much to say about it, but the Western Digital Scorpio Blue 750 GB is neatly designed. Weighing in at 150 grams, the PCB has been tightly pressed against the drive body, obviously to prevent any component from touching any external surface. Additionally, the components on the PCB can dissipate some heat by being in touch with the metal casing enclosing the platters. The drive itself is slim, in fact slimmer than some of the 250 GB notebook drives we've seen a couple of years back. Western Digital's "Blue" moniker is easy to spot - all their drives are colour coded, Black Editions have black graphics, and so on. Owing to its compactness, the drive also feels pretty solid. The build lines are pretty tight.
Features
[RELATED_ARTICLE]The model number for this Western Digital Scorpio Blue 750 GB is WDC WD7500BVPT. Weighing a mere 150 grams, it is based on a two-platter design. This means Western Digital managed to cram a massive 375 GB on each platter of the Scorpio Blue 750 GB - quite an achievement, considering that a year ago, this was the maximum amount of data that could be packed on to a 3.5-inch platter! The Scorpio Blue 750 GB has a SATA 2.0 interface, and a buffer of 8 megabytes. Western Digital claims a read/write power consumption of 1.6 watts, and an idle power consumption of 0.65 watts. The WD7500BVPT comes with a standard 3 year warranty. Note that Black Edition drives sport a 5 year warranty.
Click next to read about its performance and our final take
Performance
During operation, the drive is pretty silent, definitely more so than desktop drives, but then it needs to be, because notebooks sit a lot closer to your ears than desktop cabinets. Given that the rotational speed is 5,400 rpm, we weren't expecting very hot performance. Given our expectations, we were pleasantly surprised. In fact, it is at times faster than a Western Digital 2 TB Green Edition (WD 20EADS). We've decided to do a very interesting comparison by introducing other desktop drives and even an SSD. We're refraining from showing figures of the Western Digital WD75000BPK in this test, since WD themselves haven't even given us its pricing yet. However, expect to see that reviewed soon.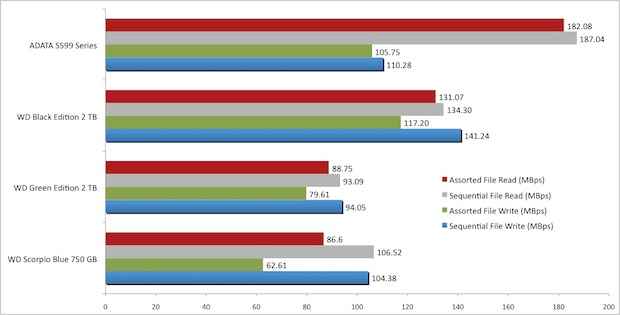 Obviously, the puny WD7500BVPT is no match for faster desktop drives, or SSDs, but then, it is not expected to be. However, when compared to a Western Digital Green Edition 2 TB, the Scorpio Blue 750 GB is no slouch. In fact, it manages to shame its larger counterpart is a few real world tests, enough for us to conclude that the drive is at least, nearly as good. It has a very respectable sequential file write speed of 104.38 megabytes per second, and is barely 43 per cent slower than a Western Digital 2 TB Black Edition, which is one of the fastest 7,200 rpm drives of all time. The assorted write test, where we write a lot of small files of variable sizes, is the most demanding of our gamut of real world tests, and this is the only place where the little newcomer lags behind, by a margin of around 22 per cent. Comparing it to ADATA's S599 we see the WD7500BVPT getting left behind as SiSoft Sandra 2010 rates the S599 as three and a half times speedier at reads, and three times faster at writes. However, comparisons with an SSD might not be fair, given the price of solid-state storage at the moment.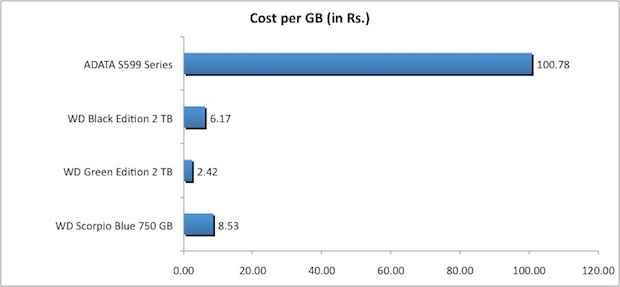 Our take
[RELATED_ARTICLE]Western Digital quotes an MSRP (recommended MRP) of Rs. 8,215, and that is a bit expensive. However, we were able to find the WD7500BVPT Scorpio Blue 750 GB for as low as Rs. 6,400 in shops. This is a very good price point for a drive of this class. Inevitably, people will compare this price to desktop drives and find it wanting, however, such comparisons are unfair. Considering you get a massive (for a notebook drive) 750 GB and performance at par with a WD 20EADS Green Edition 2 TB - the WD7500BVPT is a great deal at its street price. If you need a massive amount of storage space on your notebook, this is definitely worth considering.
Specifications: Capacity: 750 GB; No. of platters: 2; Buffer: 8 MB; spindle speed: 5,400 rpm; weight: 150 grams
Rating:
Features: 7
Performance: 6.5
Build: 7
Value: 7.5
Overall: 7.5
| | |
| --- | --- |
| Brand | WD |
| Model Name | Scorpio Blue |
| Model Number | WDC WD7500BPVT |
| Price (Rs) | 8,215 (MSRP) |
| Features | |
| HDD capacity (GB) | 750GB |
| Interface | SATA |
| Number of Platters | |
| Rotational Speed (RPM) | 5400 |
| Buffer Size (MB) | 8 |
| Performance | |
| Synthetic Tests | |
| SiSoft Sandra 2010 (Engineer) | |
| Drive Index, Read (MBps) | 73.15 |
| Access Time, read (milliseconds) | 17.46 |
| Drive Index, Write (MBps) | 65.83 |
| Access time, write (milliseconds) * | 13.88 |
| Real World Tests | |
| Write Single File (MBps) | 104.38 |
| Write Test Assorted Files (MBps) | 62.61 |
| Read Test Single File (MBps) | 106.52 |
| Read Test Assorted Files (MBps) | 86.6 |
| PhotoShop CS2 (1 GB File, in seconds) * | 54.83 |
| * less is better | |
Company Name: Western Digital
Contact: Srinivas Sampangi
Email: Srinivas.Sampangi@wdc.com
Cell: 9880293193
Website: www.wdc.com
Price: Rs. 8,215 (MSRP)