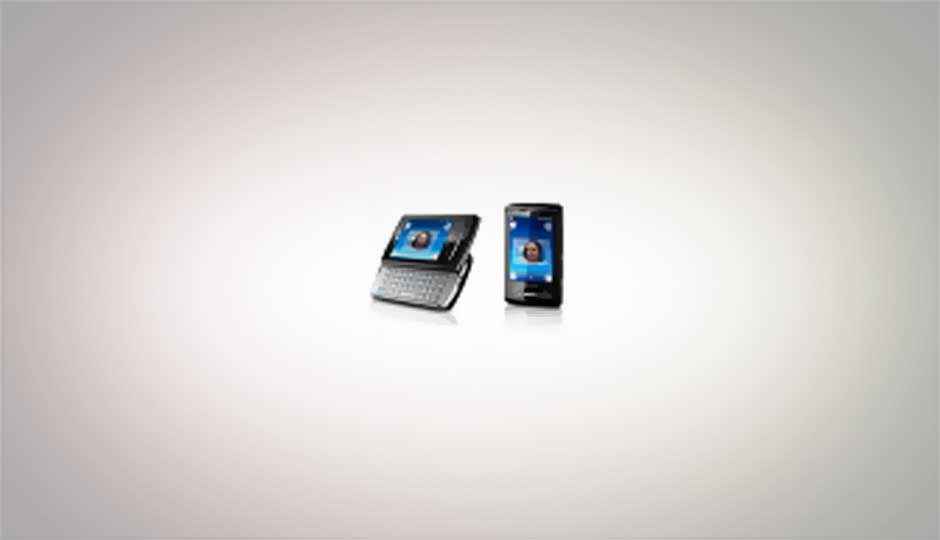 Sony Ericsson XPERIA X10 Mini Pro - The tiny professional Price in India

16000/-
Sony Ericsson XPERIA X10 Mini Pro - The tiny professional Rating

0

100
Our Verdict
A well built and compact handset, the X10 Mini Pro has a very good QWERTY keypad, and a sensitive touch screen, although it could have been a bit larger. At Rs. 16,000, the price seems about right for this fully loaded Android device.
PROS
Good looking and well built
Great QWERTY keypad and good browser
Good audio quality
CONS
Small, lower resolution screen
Mediocre battery
Slightly thick profile
Sony Ericsson XPERIA X10 Mini Pro - The tiny professional: Detailed Review
If we didn't start reviewing the Mini Pro just after finishing with the HTC HD Mini, the thought probably wouldn't have arisen. But one cannot help but evaluating these two unintended competitors with respect to the other. After all, they're vastly different beasts that can be yoked to serve similar purposes. Enter the X10 Mini Pro, a phone born from the much-touted XPERIA X10 – a phone that created a lot of hype on account of its huge screen. One look at the Mini Pro will have you going "It's a joke, is that really a phone, or a toy"? – It's that small. But let not its size fool you, this is the proverbial David, and its slingshot is loaded. For those interested in the HTC HD Mini, read our detailed review here
The look and feel
The Mini Pro is an attractive phone. What it lacks in dimensions it makes up in curves and contours. Every part of this handset exudes quality – from the glossy black front to the rubberised finish on the rear. The entire phone is black, relieved only by a chrome bezel running around it and three adjacent chrome buttons, designed to appear as a bold slash below the screen. Owing to its compact size, the Mini Pro feels solidly reassuring in-hand. Even the side-slide QWERTY keypad has a very positive feel to it and the mechanism snaps solidly into place. While the HTC HD Mini will attract you with its display that dominates proceedings, the X10 Mini Pro will captivate by its compact, almost cute dimensions. The rear is gently rounded with the bold Sony Ericsson monogram embedded in it and the "XPERIA" moniker in silver.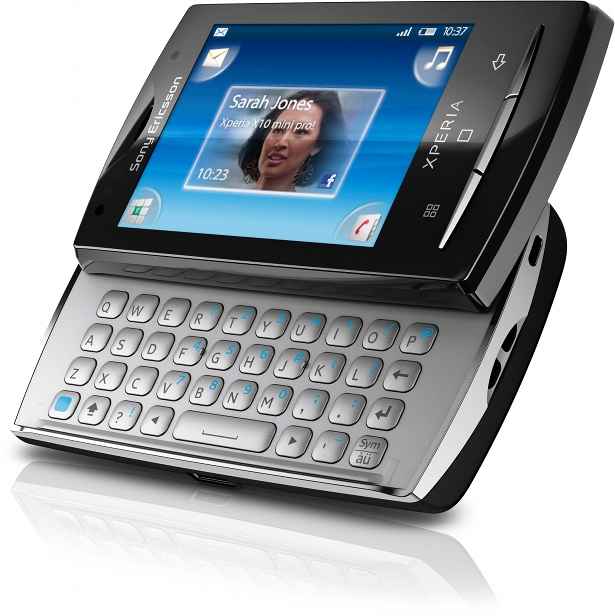 The three buttons on the facia may be attractive, but they're a touch on the hard side in terms of feedback. The power/standby button on the top is also quite hard. The rocker-type volume button has minimal travel, but is pretty intuitive and usable, while the well-labelled camera button just below it feels clicky but works fine.
Since the display is a mere 2.55-inches – small by touch-screen standards, the bezel appears quite wide, especially the lower portion. The 3.5mm jack is on the top, close to the power button and Sony supplies a set of in-ear earphones. The accessories look good and seem sturdy, but there is nothing beyond a data cable and charger. You can check out more details on the Mini Pro and download the latest firmware and patches from here
The interface
Although running Android 1.6, which is pretty archaic considering there are at least two newer revisions around, one gets the feeling that the interface is very well thought out, and optimised for such a (relatively) tiny screen. There are four shortcut widgets, one on each corner of the display, and these are configurable. From the initial screen, simply slide up for the main menu, where all the options are tiled. All menus are intuitive enough for the newbie to find his way around. Slide out the keypad, and everything shifts to a landscape perspective.
The browser is slightly better than the either IE or Opera Mini on the HD Mini. Although it's a basic HTML browser with none of the goodies like pinch zoom, regular browsing is a snap – text resizes to more readable levels, there is less interference when resizing text, and fonts seem to be rendered well. One of the major pluses is you don't have to rely on an on screen menu to enter text, but this isn't a browser brownie point. There are minus points too – the browser is noticeably slower than either IE or Opera Mini and the same webpage takes twice as long to load. And when resizing is required, it's a pain to activate since this is a hit and miss affair. The HD Mini's pinch zooming seems like a godsend here, but this happens rarely. The display resolution of 240 x 320 pixels is low. Another issue we noticed was the colours look a little deficient, and this problem didn't occur on the HD Mini that also has a 65K (OS imposed) colour restriction.
The touch-screen is fairly sensitive, and the interface is snappy for the most. It's possible to slow things down somewhat and once or twice we noticed the menu acting up a bit with some lag, but this seems rare. While the display might seem small to use properly, the addition of a QWERTY keypad alleviates this. In fact, in retrospect, Sony Ericsson seems to have thought this out to perfection. The biggest complaint with touch-screens with smaller displays is the onscreen keypad, where typing becomes a pain. The X10 Mini Pro scores big here, for the keypad is even more usable than the original XPERIA X1. For while the keys are small, they are well spaced out and have good travel and offer nice, positive feedback. If anything, we have a complaint that the white backlighting isn't visible in bright light, but a couple of seconds after you slide out the keypad in a well lit room, the ambient light sensor switches the keypads backlight off. The labelling for the secondary functions is light blue, and this is more of an annoyance in terms of visibility.
Performance
Music performance is good, well on par of what we were expecting, giving Sony Ericsson's experience with "Walkman" class phones. The bundled earphones offer good clarity, and decent bass. In-call clarity is good, and the earpiece offers good volume, better than the HD Mini. The handsfree unit offers good volume too. Signal quality is good. There were no dropped calls in zone three, however some distortion was audible. Vocals also sounded slightly lacking in texture in zone two – a curious phenomenon that occurred twice, rather sporadically. Loudspeaker volume and clarity is good, much better than the HTC HD Mini.
Video playback isn't much of an experience on account of a noticeable deficiency in colour, and the contrast that isn't too good under fluorescent lighting. Battery life isn't that great, and just two hours of talking saw our battery dip to less than 50 per cent. Charging daily is a mandatory affair. While this isn't usually part of our testing criteria, while using the X10 Mini Pro without headset, we noticed some of us developing a bit of a headache after 45 minutes or more on call. Checking online found this phone to have an unusually high SAR rating, whether or not this was the culprit is anyone's guess, but it merits mention.
Conclusion
The XPERIA X10 Mini Pro is a nice device that straddles an interesting niche – someone who wants a compact touch-screen with a hardware QWERTY might look at this. Sound too niche? It isn't without the odd niggle, but if screen size isn't important to you, but a good keypad is, you might want to look it up. Perhaps, the best thing going for the X10 Mini Pro is its price – Rs. 16,000 doesn't sound much for the features on offer, and while there are better Android-based devices around, very few of them are similarly priced. Therefore, the X10 Mini Pro comes highly recommended.
| | |
| --- | --- |
| Brand | Sony Ericsson |
| Model | XPERIA X10 Mini Pro |
| Features | |
| Physical Specs | |
| Form Factor | Side-slider |
| 2G Network Bands | GSM 850 / 900 / 1800 / 1900 |
| 3G Network Bands | HSDPA 900 / 2100 |
| Screen Resolution | 240 x 320 pixels |
| Screen Size | 2.55-inches |
| Maximum Screen colours | 65K |
| Touchscreen / Dual Screen (Y/N) | touchscreen |
| Battery Rating | 930 mAh |
| Dimensions (L x W x H) | 90 x 52 x 17 mm |
| Weight | 120 grams |
| Expandable Memory Type | microSD |
| Hot Swappable | Y |
| Available Colours | Black, Red, Pink |
| Other Features | |
| Operating System | Android 1.6 |
| Charging via USB (Y/N) | Y |
| Hardware Keypad (Regular/QWERTY) | QWERTY |
| Accelerometer (For auto rotate) | - |
| Address Book Capacity | Unlimited |
| No of calls in register | Unlimited |
| Talk Time / Standby Time * | 3 hrs 30 min, 360 hrs |
| No of Profiles # / Customisable | 3 / Y |
| Offline Opearability (Y/N) | Y |
| Inbuilt GPS / A-GPS support (Y / N) | Y |
| Connectivity | |
| Browsing (GPRS/EDGE/3G) | Y / Y / Y |
| EDGE max speed | 236.8 kbps |
| 3G max speed | 3.6 mbps (HSDPA) |
| Connectivity (WiFi/Bluetooth/IR/USB) | Y / Y / N / Y |
| Bluetooth Version/A2DP support | 2.1 / Y |
| Accessories | |
| Bundled Accessories | Charger, data cable, headset |
| Size of memory card provided | - |
| Overall Build Quality (So 10) | 8 |
| Overall Ergonomics (So 10) | 7 |
| Keypad Design (So 10) | 7.25 |
| Camera Specs | |
| Camera Resolution (Mega Pixels) | 5 |
| Video Capture Resolution | 640 x 480 |
| Dual Cameras / Auto Focus / Flash (Y/N) | N / Y / Y |
| Mirror for self portrait (Y / N) | N |
| Camera Settings (So 10) | 6.5 |
| Zoom (Optical/Digital) | Digital |
| Multimedia | |
| Music Formats supported | MP3, AAC , WAV, WMA9 |
| Video formats supported | MP4, H.263, H.264 |
| FM Radio (Y/N) | Y |
| Performance | |
| Signal Reception and Voice Clarity (So 10) | |
| Zone 1 | 7.5 |
| Zone 2 | 6.75 |
| Zone 3 | 6.25 |
| Device Earpiece Volume | 6.25 |
| Device Loudspeaker clarity | 6.75 |
| Handsfree Clarity | 6.5 |
| Speaker Volume (on call) | 5.75 |
| Bluetooth Transfer Speed | 125 kbps |
| WiFi signal strength (Zone 2) | 35 |
| Captured Photo Quality (So 10) | |
| Captured Photo Colour | 6.5 |
| Captured Photo Crispness | 6.75 |
| Captured Video Quality | 5.5 |
| Loudspeaker Audio Quality | 6.75 |
| Bundled Earphones Quality | 6.25 |
| Video Playback Quality (So 10) | 6 |
| Price (MRP, Rs) | 16000 |
| | |
| * Manufacturer Rated | |
Specifications: OS:Android 1.6;CPU: Qualcomm MSM7227 600 MHz; RAM: 128 MB; battery: 930 mAh; display: 2.55-inches (240 x 320 pixels); weight: 120 grams
Ratings:
Features: 7.5
Performance: 8
Build: 7.5
Value: 7
Overall: 7.5
Price: Rs. 16,000