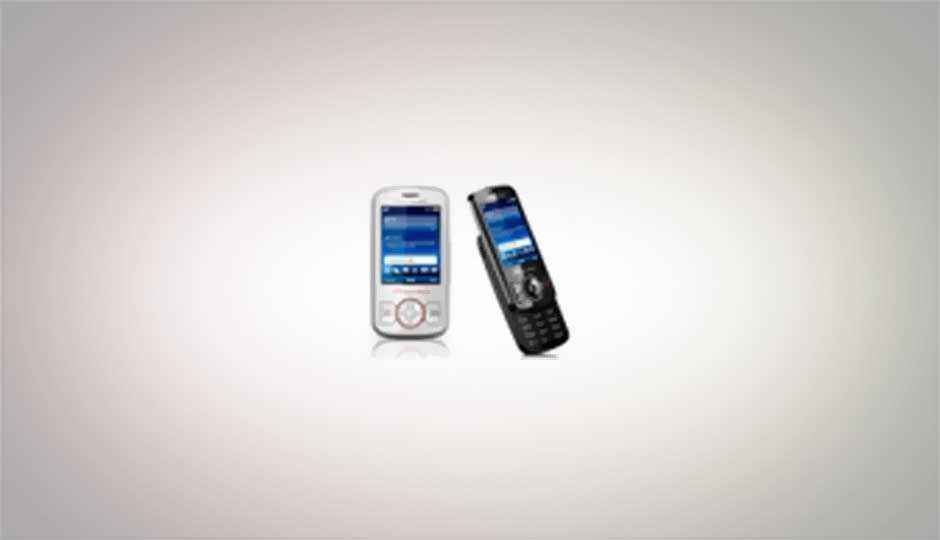 Sony Ericsson W100i - Walkie-talkie Rating

0

100
Our Verdict
At Rs. 5,600 the Spiro is a good handset, but it has a couple of issues that include a poor quality headset and a quirky number keypad. As such, there are better features available on cheaper handsets from smaller manufacturers, but the SE Spiro is a nice, cute and well built handset for those wanting a phone and a music player. Just buy a set of aftermarket earphones.
PROS
Compact and sleek
Good build quality
Decent performer
CONS
Basic camera
Quirk in keypad
Bundled earphones need upgrading
Sony Ericsson W100i - Walkie-talkie: Detailed Review
Sony Ericsson has been maintaining a steady flow of Walkman handsets in the market. The W100i is another of these. Yet SE manages to inject just enough of uniqueness to each Walkman phone, not to make us go "Oh, not another Walkman for review". The W100i might be a Walkman, but it's cute enough to enjoy its own niche. This phone is clearly aimed at the mid-range market – those looking at a basic feature set in a phone that doubles as a capable music player.
Look and feel
The W100i compact, tiny even, and will easily fit the smallest hand. Another upside is the phone feels very solid, as if it would survive a fall, this we didn't test. Although touch-screens are the new craze, sliders are still hot. The sliding action on the Spiro isn't the best we've seen from SE, but it seems robust enough to stand the vigour's of daily use. The materials used are of good quality and the phone has a nice finish. The rear is matte black, while the front and sides sport a glossy white coat. The Spiro is attractive looking, but in a simplistic, yet chic way.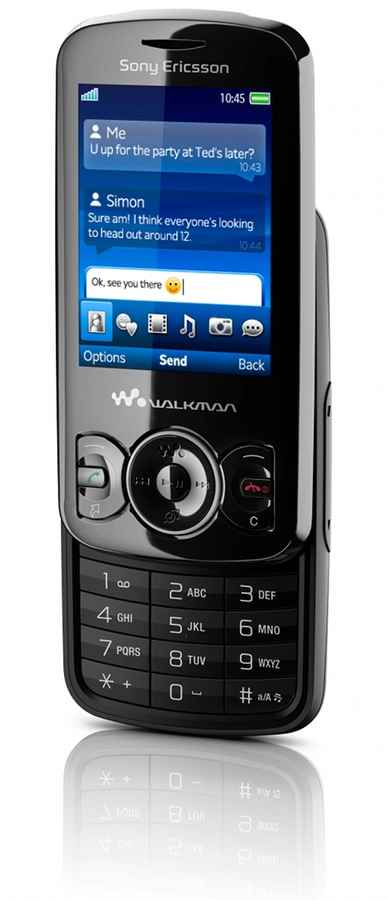 The rear features a gentle curved design, with a slight bulge towards the centre of the device – this is part of SE's "human design" philosophy. The space on the rear is shared by the SE monogram, a large speaker vent and the cutaway for the camera lens. The 3.5mm jack is located conveniently on the top. The large, flush-fit volume rocker is located on the right and thanks to good feedback and indentations on the surface, it's pretty usable. The unprotected micro USB port is located on the left side. Incidentally, the microSD card is hot swappable, as the battery needn't be removed.
There is a cluster of tiny buttons on the front, beneath the display. The four-way joypad and centre button have the usual functions within the menu system and double as Walkman controls – this is a design SE has been using for some time with their Walkman phones, and we see no reason to tamper with a working formula. Call accept/reject buttons are flanked by other function keys and small, but thanks to slightly raised edges, they're quite usable, although you'll have to use your nails or the edges of your fingers.
Slide it open and you're greeted to a black numeric keypad with dim orange backlighting – nothing fancy, but it works. The number keypad is reasonably spaced out, and this makes up, to a certain extent to the distinct lack of bevelling on the keypad. The "zero" key, seems to be slightly recessed, owing to the slightly concave design on the keypad, and this causes a major problem while messaging because the spacebar function is mapped to this key. Owing to the slight dip, this key is somewhat of an ergonomic blunder that takes getting used to. Also, the delete key is on the facia, and not on the keypad – this takes getting used to, but even Nokia phones have the same problem; not that this is an excuse for it. As such typing on the keypad is a good experience, with the exception mentioned above.
Click next to read about how the W100i performed...
Performance
The handsfree on the W100i is a basic unit – no control buttons and no in-ear earphones. In fact the bundled earphones are a bit uncomfortable. Sound quality is decent, nothing more. Bass is lacking, treble seems to be slightly overemphasised, while the mid-range is a bit recessed, with vocals sounding a bit congested. Adding a set of Soundmagic PL11 earphones improved the sound – bass became better presented and punchier, while the mid-range was more pronounced.
Video playback is snappy, although the display quality is very mediocre. In-call clarity is good, in zone three, we faced no disconnected calls although voice clarity was pretty poor, and in zone two voice was clear with slight intermittent distortion. Zone one was flawless – this phone hasn't got the best antenna around, but it's more than acceptable. Earpiece volume is good, and loudspeaker volume is also pretty good, with decent clarity sans the tinny sound characteristic of a weak speaker.
Browsing is a slow experience, and the browser is pretty archaic with no flash support. The camera is acceptable for bright sunlight and well-lit shooting indoors, but with no autofocus and flash, its functionality is seriously crippled. And due to this performance is affected as well. Basically, you're looking at decent colour, but mediocre focussing and sharpness. Definitely not for those looking for even a casual clicker.
Conclusion
An MRP of Rs. 5,600 doesn't seem excessive, although if you compare the feature list to phones in a similar price bracket from smaller vendors, you will notice a huge difference. Smaller vendors give you more features, but then, they don't provide the same levels of usability. For instance, a similarly priced touch-screen would probably have severe usability issues. If you're looking for a good music phone that is compact, the Spiro makes a sensible buy. The quirky keypad and poor quality earphones supplied are its major pitfalls.
Specifications: Network: GSM 800/1900; Platform: proprietary; Display: 2.2-inches, 240 x 320 pixels, 256K colours; Memory: 5 MB internal, microSD expansion; Camera: 2-megapixel; Battery: 930 mAh; Weight: 90 grams
Rating:
Features: 5.5
Performance: 6
Build: 7.5
Value: 6.5
Overall: 6
| | |
| --- | --- |
| Brand | Sony Ericsson |
| Model | W100i (Spiro) |
| Features | |
| Physical Specs | |
| Form Factor | Slider |
| 2G Network Bands | GSM 900 / 1800 |
| 3G Network Bands | - |
| Screen Resolution | 240 x 320 pixels |
| Screen Size (in inches) | 2.2-inches |
| Maximum Screen colours | 256000 |
| Touchscreen / Dual Screen (Y/N) | N / N |
| Battery Rating | |
| Dimensions (L x W x H) (in mm) | 92 x 48 x 16.8 mm |
| Weight (in grams) | 90 grams |
| Expandable Memory Type | microSD |
| Hot Swappable (Y/N) | Y |
| Available Colours | Contrast Black, Sunset Pink, Spring Green, Stealth Black |
| Other Features | |
| Operating System | Proprietary |
| Charging via USB (Y/N) | Y |
| Hardware Keypad (Regular/QWERTY) | Regular |
| Accelerometer (For auto rotate) | N |
| Address Book Capacity | 2000 entries |
| No of calls in register | 10 dialled, received, missed |
| Talk Time / Standby Time * (hrs, min) | 4 hrs, 476 hrs |
| No of Profiles / Customisable (Y/N) | 4 / Y |
| Offline Opearability (Y/N) | Y |
| Inbuilt GPS / A-GPS support (Y / N) | - |
| Connectivity | |
| Browsing (GPRS/EDGE/3G) | Y / Y / N |
| EDGE max speed | 236.6 kbps |
| 3G max speed | - |
| Connectivity (WiFi/Bluetooth/IR/USB) | N / Y / N / Y |
| Bluetooth Version/A2DP support | 2.1 / Y |
| Accessories | |
| Bundled Accessories | charger, data cable, handsfree |
| Size of memory card provided | - |
| Overall Build Quality (So 10) | 7.5 |
| Overall Ergonomics (So 10) | 7 |
| Keypad Design, ergonomics, usability (So 10) | 5.25 |
| Camera Specs | |
| Camera Resolution (Mega Pixels) | 2-megapixels |
| Video Capture Resolution | 320 x 240 |
| Dual Cameras / Auto Focus / Flash (Y/N) | N / N / N |
| Mirror for self portrait (Y / N) | N |
| Camera Settings (So 10) | 5 |
| Zoom (Optical/Digital) | Digital |
| Multimedia | |
| Music Formats supported | MP3, eAAC , WAV |
| Video formats supported | MP4, H.263, H.264 |
| FM Radio / RDS (Y/N) | Y / Y |
| Performance | |
| Signal Reception and Voice Clarity (So 10) | |
| Zone 1 | 7.25 |
| Zone 2 | 6.5 |
| Zone 3 | 6 |
| Device Earpiece Volume (on call) | 6.5 |
| Device Loudspeaker clarity (on call) | 6.25 |
| Handsfree Clarity (on call) | 6.75 |
| Loudspeaker Volume (on call) | 6.5 |
| Bluetooth Transfer Speed (in kbps) | 85.1 kbps |
| WiFi signal strength (Zone 2) (%) | - |
| Captured Photo Quality (So 10) | |
| Captured Photo Colour | 6 |
| Captured Photo Crispness | 5 |
| Captured Video Quality | 3.5 |
| Effectiveness of integrated flash | - |
| Loudspeaker Audio Quality | 5 |
| Bundled Earphones Quality | 4 |
| Display | |
| Quality of display | 4 |
| Viewing angle of display | 4.25 |
| Legibility in bright sunlight | 5.5 |
| Video Playback Quality (So 10) | 4 |
| Price (MRP, Rs) | 5600 |
| | |
| * Manufacturer Rated | |

Contact: Sony Ericsson
Phone no: 1800111800
E-mail: -
Website: www.sonyericsson.com
Price: Rs. 5,600 (MRP)