Research In Motion (RIM) has announced the launch of three new BlackBerry smartphones in India. All three phones are based on the new BlackBerry 7 OS operating system.
The BlackBerry Bold 9790Where to buy

4485

5765

6200 combines a QWERTY keyboard with a touchscreen. The Blackberry Curve 9350 is the first CDMA-based BlackBerry 7 smartphone to be launched in India. The Blackberry Curve 9380 is the first smartphone with an all-touch display in the curved series.

"We are pleased with the response that the new BlackBerry 7 operating system is receiving from customers in India and we are very excited to introduce these three new BlackBerry 7 based models here," said Krishnadeep Baruah, Director of Marketing for India at Research In Motion. "These new BlackBerry Bold and BlackBerry Curve smartphones offer compact designs with faster performance, enhanced browsing and richer multimedia, as well as NFC support."
BlackBerry Bold 9790Where to buy

4485

5765

6200 with Touch Display and Keyboard
Carrying forward the Bold 9700 series, the new BlackBerry Bold 9790Where to buy

4485

5765

6200 smartphone comes powered by a 1 GHz processor, and a touchscreen QWERTY combo. There is 8GB onboard memory and an expandable memory card slot that supports up to 32 GB of additional storage. This phone is priced at Rs 27490.

BlackBerry Curve 9350 with Keyboard
The new BlackBerry Curve 9350 is a CDMA smartphone. It has features like optical trackpad, GPS and Wi-Fi, 5MP camera with flash and video recording and the microSD/SDHC slot supports up to 32 GB memory cards. This one is priced at Rs 20990.

All-Touch BlackBerry Curve 9380
This is the first all touchscreen phone for the Curve series, and not to be confused with the Torch 9860. It has a 3.2" touchscreen and an optical trackpad. This one will be priced at Rs 20990
Also read our reviews of other recent BlackBerry devices:
More information on the new BlackBerry 7 OS
The new Blackberry 7 OS focuses on improved browsing, voice-activated searches, support for Augmented Reality and NFC (Near Field Communications).
BlackBerry 7 also comes with an updated browser is faster than the predecessor. The browser includes a new JIT (just in time) JavaScript compiler to improve the load time speed of web pages and it offers optimized HTML5 performance for incredible gaming and video experiences. The popular universal search capability has also been enhanced with support for voice-activated search, so users can simply speak to begin searching their device and the web for information.

The BlackBerry Bold 9790Where to buy

4485

5765

6200, BlackBerry Curve 9350 and BlackBerry Curve 9380 smartphones include built-in support for Augmented Reality and NFC, allowing users to connect with the world around them in fresh new ways. With Augmented Reality, users can use the Wikitude application to find nearby BBM (BlackBerry Messenger) contacts in real-time, read reviews on restaurants close to them, or get the story behind an interesting landmark or points of interest. NFC also enables many new and exciting capabilities, including the ability to pair accessories or read SmartPoster tags with a simple tap of the smartphone.

BlackBerry 7 OS comes with a host of pre-loaded applications. The Premium version of Documents To Go allows users powerful document editing features as well as a native PDF document viewer. BlackBerry Protect app is also pre-loaded, for personal data can be back up on the cloud. BlackBerry Balance app is integrated in BlackBerry 7, allowing users to enjoy the full BlackBerry smartphone experience for both work and personal purposes without compromising the IT department's need for advanced security and IT controls.
The Social Feeds (2.0) app has been extended to capture updates from media and favourites all in one consolidated view. The Facebook for BlackBerry smartphones (2.0) app introduces features like Facebook chat and BBM integration that makes it easier for users to connect with their Facebook friends in real time.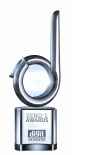 "Don't miss the Zero1 Awards in the December 2011 Collector's Edition of Digit. Book your copy now!"