In what is a somewhat unexpected development, one Indian online retailer has slashed the prices of the Apple iPhone 5. At the time of writing this, Snapdeal is offering the 16GB version of the Apple iPhone 5 for Rs. 43,999. If we go by the reports of our friends at the Times of India, apparently, Snapdeal had offered this phone at Rs. 42,990 for a limited time. Why we say unexpected is mostly because just recently, the government raised taxes on all mobile phones costing more than Rs. 2,000. This was announced in the Budget 2013 announced recently.
Snapdeal has listed the white and the black colour versions of the Apple iPhone 5 (16GB) for Rs.43,999. The box price of this phone is Rs. 45,500. Incidentally, the 32GB and 64GB versions of the iPhone 5 are not listed on the site as we write this. The price slash seems to be across the board for iPhones. The Apple iPhone 4 (8GB), in both white and black colours, is now selling for Rs. 25,990. This is against the box price of Rs. 28,500. The Apple iPhone 4S (16GB), again both colour options available, is listed at Rs. 35,500, instead of the pre-discount price of Rs. 38,500.
We got in touch with sources close to Apple India, who say that Apple has nothing officially to do with these price cuts. Additionally, there are also doubts on where the website is sourcing the units from, since they are not "authorized resellers".
As for the Snapdeal offer, we are a little apprehensive about the warranty bit. The listing only mentions "1 Year Manufacturing Warranty", and that leads us to doubt the sourcing of the product, in line with what the Apple representative said. We would not advise buying from a source where the warranty details are not clear, considering the huge investment up front.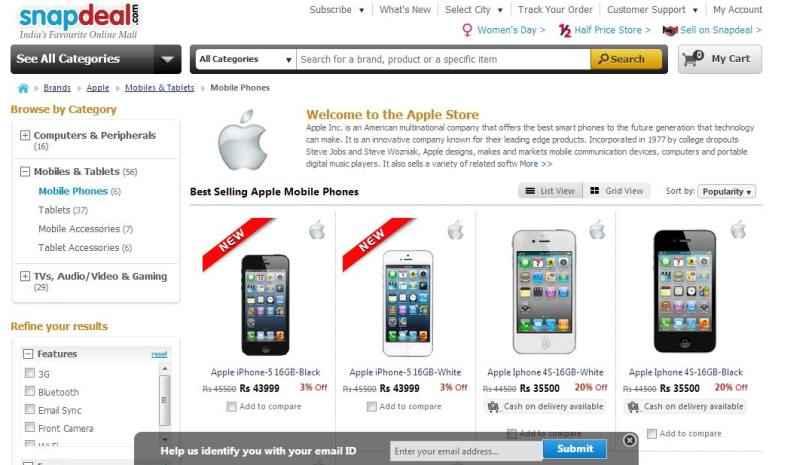 This is the first time when one of the leading e-commerce websites has slashed the prices on the iPhone 5. Yes, the iPhone has been available at lower prices on websites like eBay, but we will not factor those in since that is a different platform, with sellers interacting with buyers directly. We are not really sure if these prices will really have an impact on the smartphone market in general, particularly on the likes of the BlackBerry Z10 and the HTC Butterfly, both of which are priced similarly or higher than the iPhone 5. Mostly because these offers from Snapdeal are most likely limited time offers to get the inventory moving, and may not be sustainable in the long run.
Source: Times of India