Intel recently showed off its line-up of Clover Trail Atom dual-core processors at the Mobile World Congress in Barcelona. The Clover Trail processors are based on 32nm fabrication and allow for Hyper-Threading. Intel revealed that the new Clover Trail line-up will include the Z2520, Z2560 and Z2580 processors clocked at speeds up to 1.2GHz, 1.6GHz and 2GHz respectively.
The Clover Trail series is a successor to Intel's Medfield Atom platform that powered the Lava Xolo X900 smartphone. However, Intel's first Clover Trail processors were designed to run inside Windows 8 tablets but the Clover Trail can be used for smartphones and tablets. Intel claims that the Clover Trail platform offers better graphics and better memory optimization. However, improvements in graphics performance is the main point of focus in Clover Trail . The platform now features a GPU solution with two PowerVR SGX 544 cores and also supports display resolutions up to 1920×1200 pixels. While Intel hasn't done much with regard to power usage, the fact that Clover Trail includes dual-core processors means that battery life could take a hit.
Intel also plans to release 22nm Atom processors later in the year.
The Competition
Intel won't have an easy time ensuring wide-spread adoption of its new Atom processors because its competition is also surging ahead by leaps and bounds. Samsung is readying its eight-core Exynos Octa 5 platform which integrates a quad-core ARM Cortex A15 and a quad-core ARM Cortex A7. The Octa 5 platform ensures that the former is used when the device is engaged in heavy tasks while the latter kicks in when performance is not that important. Samsung has said that the new platform will make sure that there's a balance between performance and battery use.
Qualcomm, arguably the biggest name in mobile processors, has also revealed its new line-up of mobile processors. The most powerful among them is the Snapdragon 800 that runs four custom ARMv7 microprocessors (codenamed: Krait 400) clocked at 2.3GHz. The Snapdragon 800 will also feature an Adreno 330 GPU that's able to churn out resolutions up to 2560×2048 pixels. The first devices powered by the Snapdragon 800 will probably be released in mid-2013.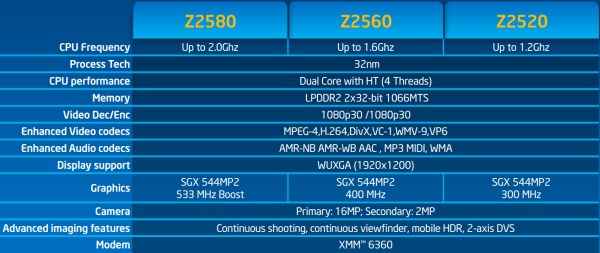 Qualcomm has also revealed other platforms like the Snapdragon 600, 400 and 200 meant for high-end, mid-range and budget devices.
Finally, Nvidia also recently revealed its Tegra 4 platform, which is claimed to provide six times more powerful graphics performance than its predecessor. The Tegra 4 platform comprises of a quad core ARM Cortex A-15 CPU and a separate low-power single core CPU. Graphics are handled by 72 Nvidia GPU cores and connectivity by an Icera i500 chip that supports 4G LTE.
The Tegra 4 is expected to power handsets from ZTE and can already be found in a 10.1-inch tablet from Vizio.
Source: Anand Tech