Micromax wasn't kidding when it said that would launch more than 30 phones in its portfolio in 2013. The latest addition to their smartphone family comes under the Ninja umbrella. Christened the A89 Ninja, the device has made an appearance on the company's official website with details about the specifications but no information about the price.
In terms of the specifications, the A89 Ninja has a 4-inch TFT display with a 480x800 pixel resolution. A 1GHz dual-core Mediatek MT6577 SoC processor and 512MB of RAM power the device. It houses a 1450mAh battery which Micromax claims can last for 170 hours of standby and four hours of talk time. It runs on Android 4.0 ICS. The rear of the A89 houses a 3MP camera and there is no front facing camera.
In terms of connectivity options, the A89 Ninja has Bluetooth 2.1, 3G, Wi-Fi and USB. It has 4GB of ROM, and built-in storage of 2.07GB expandable via a microSD card. It also supports dual-SIM functionality.
No pricing is available about the phone, nor has it made an appearance on online shopping portals as of writing this article, but Information on the Internet suggests that the A89 will be available for Rs. 7,000 approximately.
The market is flooded with a plethora of budget phones available in Rs. 7,000 price range. For that budget you can get the LG Optimus L3, Micromax Superfone Elite A84, the Xolo A500 or even the Samsung Galaxy Pocket. The advantage of the A89Where to buy

4949 however is that it has the MediaTek MT6577 SoC which is designed for low cost phones. The SoC features a dual-core 1GHz Cortex-A9 application processor from ARM, a PowerVR Series5 SGX GPU. How well the SoC is optimized with the device is something we can say when we review the device.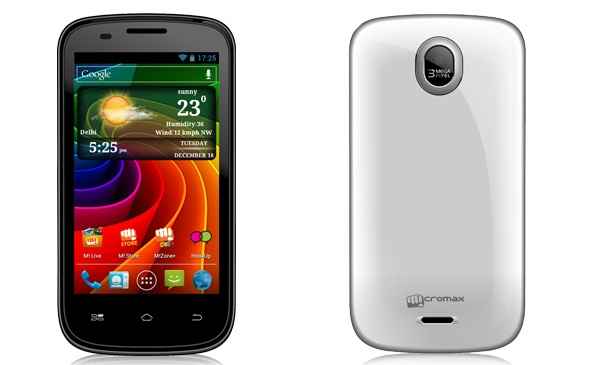 Micromax has gone all out to capture the budget market in India. They had the successful Canvas A110 launch just a few months ago. You can read our review of the device here.
Micromax and MediaTek have also joined forces to launch the first quad-core powered smartphone running Android 4.1 Jelly Bean. Called the A116 Canvas HD, the device boasts of a 5-inch display and some impressive power under the hood. You can read the launch details of the A116 here.
Source: Micromax