The Micromax A116 Canvas HD is officially available this Valentine's Day for Rs. 13,990, via Snapdeal (for now, exclusively). However, as of writing this article, the new quad-core device from Micromax was already sold out, though you can try your luck here.
In terms of specifications, the A116 Canvas HD is a powerhouse. To start with, it has a 5-inch IPS display with a 1280x720 pixel resolution. Under the hood, it has a 1.2GHz quad-core MediaTek MT 6589 processor along with 1GB of RAM. It also shows off a PowerVR SGX5 GPU. The A116 boasts of dual-SIM capabilities. It has 4GB built-in storage expandable up to 32GB via a microSD card. The rear of the device houses an 8MP camera where as the front has a 2MP shooter for video chatting. It also has a 2000mAh battery, rated to deliver 174 hours of standby time, and 5 hours of talktime.
The Micromax A116 Canvas HDWhere to buy

14445 smartphone is the first smartphone from Micromax's stable to run on Android 4.1 Jelly Bean upgradable to Android 4.2 JB. You can read our first Impressions of the Micromax A116Where to buy

14445 Canvas HD here.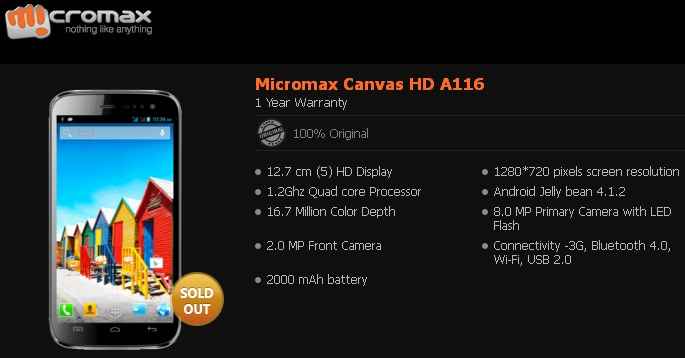 Talking about the processors, we note the Micromax A116 Canvas HDWhere to buy

14445 has the MediaTek MT6589 processor, which the company claims is the world's first commercially viable quad-core Cortex-A7 SoC. Check out complete specifications of the chipset here. The MT6589 has four Cortex-A7 cores, clocking in at 1.2GHz, and uses a PowerVR Series 5XT GPU. The combination of the two allows for the processor to provide support for full HD content, along with being able to handle a 13MP camera. It also supports 3D content, and is capable of shooting in 3D and convert 2D footage to 3D on the fly. We have high expectations from power under the hood of the A116.
But Micromax isn't the only company that has entered the quad-core budget smartphone race. Karbonn has announced the Smart Titanium 1, which boasts of a quad-core 1.2GHz processor and Android 4.1 Jelly bean. You can take a look at an in-depth comparison of the two budget quad-core smartphones here.
Micromax has become a known and respected brand in the budget smartphone market in India. So it's safe to say that apart from the impressive power under the hood of the A116 Canvas HD, the device will be well received because of its branding.
Chinese manufacturer Jiayu also reportedly plans to launch three smartphones in India priced at Rs. 3,000, Rs. 8,000 and Rs. 9,000 for an entry level, dual-core and quad-core smartphone respectively.
The Jiayu G4 Basic is a smartphone that is priced at Rs. 9,000 and boasts of the same MediaTek SoC that is powering the A116 Canvas HD. The Jiayu G4 Basic boasts of dual-SIM capabilities along with dual standby capabilities, 2G GSM 850/900/1800/1900MHz and 3G WCDMA 2100MHz. It runs on Android 4.1 Jelly Bean straight out of the box. Under the hood, a 1.2GHz Mediatek MTK6589 Cortex A7 quad-core processor, along with PowerVR SGX 544 GPU and 1GB of RAM, powers the device.
The G4 has a 4.7-inch IPS display with a 1280x720 pixel resolution giving it a pixel density of 312ppi. The quad-core Jaiyu smartphone features a 13MP rear camera with flash, and a 0.3MP front camera for video chatting. It also has 4GB of built-in storage, an 1800mAh battery, and weighs in at 121 grams.
The higher variant of the Jiayu G4 will have 32GB built-in storage, 2GB of RAM and a 3000mAh battery.
There is no information about the launch of the Jiayu G4 but we are quite impressed with the specifications and the price point. Stay tuned, as we will bring you our details review of these smartphones as soon as we get our hands on them.