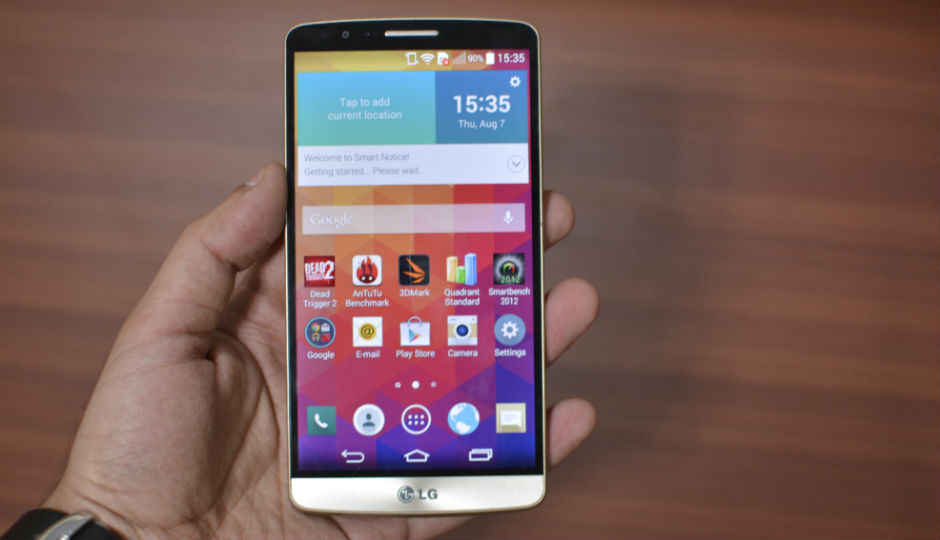 LG G3 Price in India

47990/-
The LG G3 lives up to its specification sheet and could very well be the best Android flagship available right now.
Our Verdict
It is not often that we call a device the best flagship smartphone in the market, but the LG G3 may very well deserve this monicker. It is a well built smartphone that has flagship specs and lives up to its spec sheet. Definitely something you could buy.
PROS
Camera takes very good pictures in normal and low light conditions.
Very light.
Good build quality and comfortable to use.
Fluid performance with no lag
CONS
Screen is a fingerprint magnet.
Could have been priced a little lower.
LG G3: Detailed Review
LG has been making a pretty legitimate claim on the smartphone market for some time now, but the company doesn't quite have the numbers to show for it. The LG G2 was an impressive smartphone, which didn't sell as much as you would expect it to, but the company doesn't seem too deterred. With its newest flagship, the company has picked up right where it left off.
Build and Design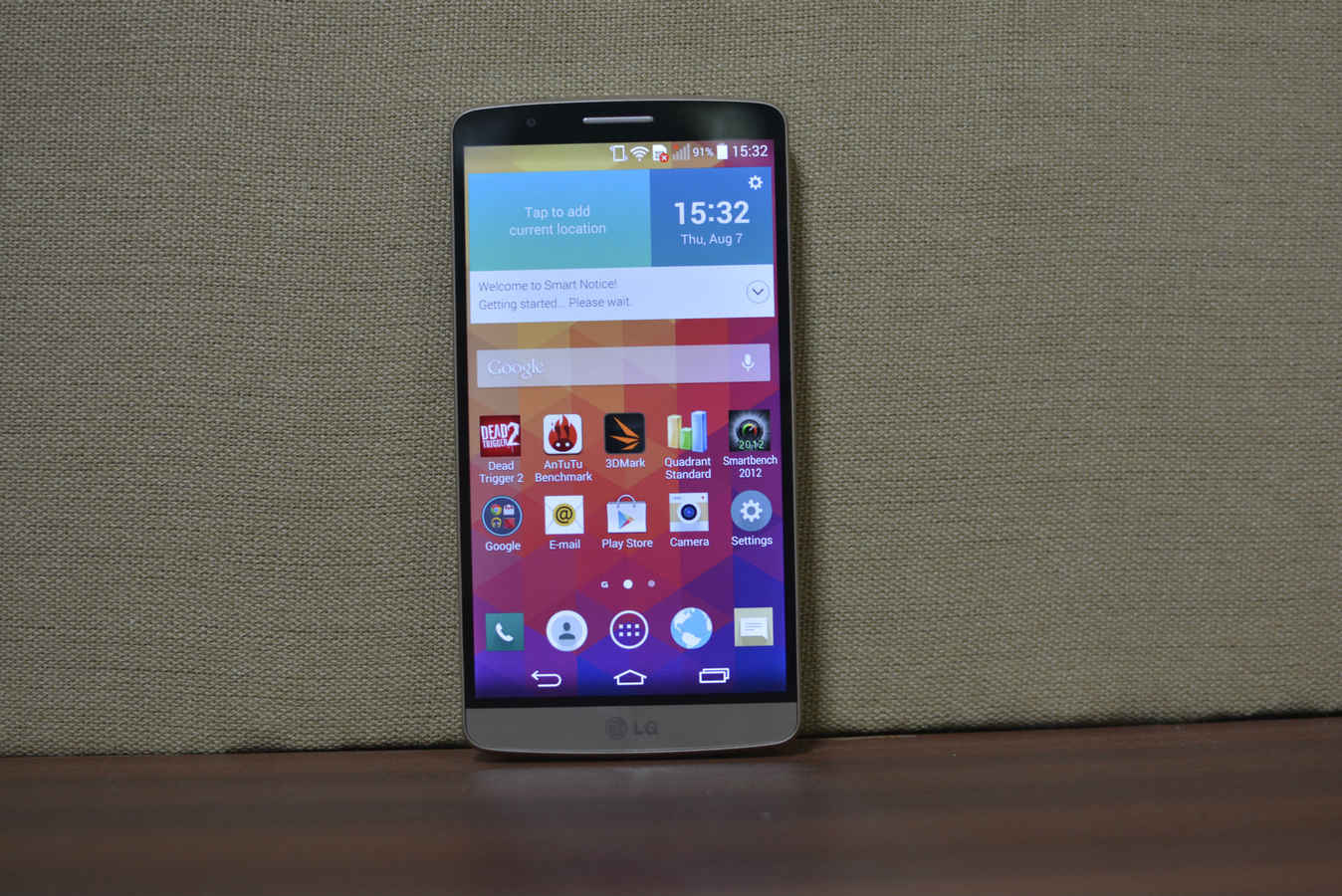 The LG G3 has arguably the best design among the flagship high-priced smartphones today. It has a 5.5 inch display and is 8.9 mm thick with a plastic body with a brushed metallic finish. LG has devised a special film, which takes away the plasticky feel from the device and combined with the brushed finish, gives the phone a very good look and feel. (Click images to enlarge)
Moreover, what is really good about the G3's build though is how easily it fits in your hand. Don't get me wrong, it's a big phone, but it isn't as big as you would expect a 5.5 inch smartphone to be. LG has done this by doing two things — one, by giving the phone very slim bezels, and two, by giving it a curved back. While the former makes the phone as big as some 5 inch smartphones, the latter makes it fit right in your hand.
While the G3 doesn't quite suit single-handed use, it does so much better than many other devices that have a smaller screen. It also feels very sturdy and once you get used to the rear buttons on the G3, you wouldn't want to have it any other way.
Display and UI
One of the differentiating features of the G3 is that it has a quad-HD screen. This is one of only two smartphones in India to sport a quad-HD display (the other one being the Oppo Find 7). The display is good, but to the naked eye, the quad-HD isn't that different from a full-HD, making this more of a gimmick for the consumer.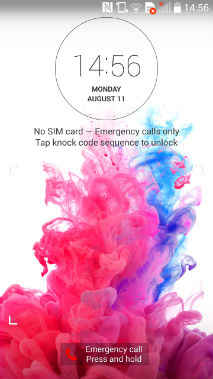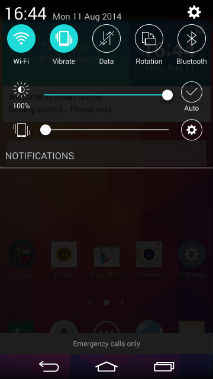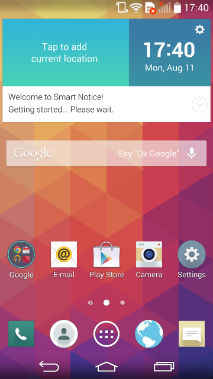 The G3's display is actually a little disappointing because of how sensitive it is to fingerprints. While this is a very bright screen, the fingerprints really affect the sunlight visibility of the smartphone. There are plenty of devices in this segment that provide better sunlight visibility and it is something you would definitely want if you spend over Rs. 40,000 on your phone. It's a vibrant and bright display when you're indoors though. You will enjoy playing games and watching videos on it.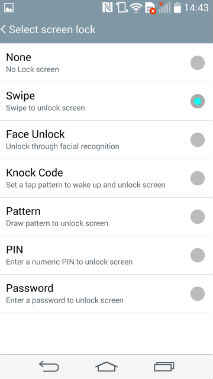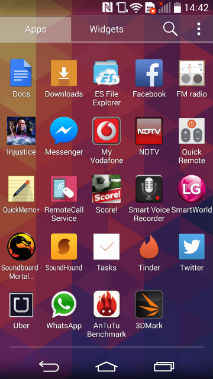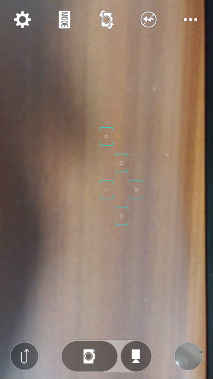 On the UI front, while LG has made a lot of changes, the company has a simplistic UI compared to many others. This makes the UI easy to learn and use, while also adding something new to how the phone feels. The transparent notification bar added by LG is somewhat like that seen on Android L previews, albeit without the card-based notifications. The Knock Code unlock feature also gives some added security to your phone and it is quite easy to use. You can set a specific knock pattern, which will unlock your phone.
Performance
As flagships go, the G3 provides uncompromised performance with the 2.5 GHz Qualcomm Snapdragon 801 quad core SoC and the Adreno 330 GPU. The performance is fluid, with no lag in the UI or while playing high-end games like Dead Trigger 2, Asphalt 8 and Injustice: Gods Among Us.
The phone does heat up quite a bit, but also takes very less time to cool down. Also, it doesn't heat up enough to feel uncomfortable, which is very good. We did not have any complaints with the G3 in terms of the performance.
The phone also performed well on benchmarks, maxing out both 3D Mark Ice Storm and Ice Storm Extreme tests. It also does well on the Antutu X, Quadrant Standard and Smartbench 2012 benchmarks.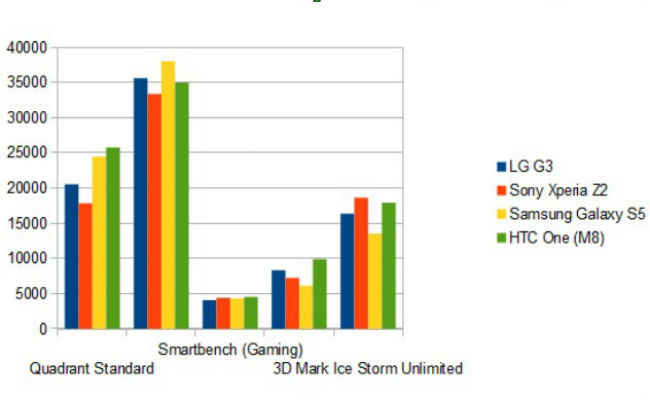 Camera
The quad-HD display isn't the only new feature on the G3. One of its biggest strengths is in the 13 MP rear camera, which has a laser auto-focus system. The G3's camera is definitely one of the best that you can find today. We tested it against an iPhone 5S and found that the camera comes very close to the 5S in terms of white balance and overall picture quality. The G3 also surpasses the iPhone in low-light imaging. This we also tested against an Xperia Z1 Compact and the G3 did better than the Sony. Below are images taken using the G3 under outdoor, indoor and low light conditions respectively.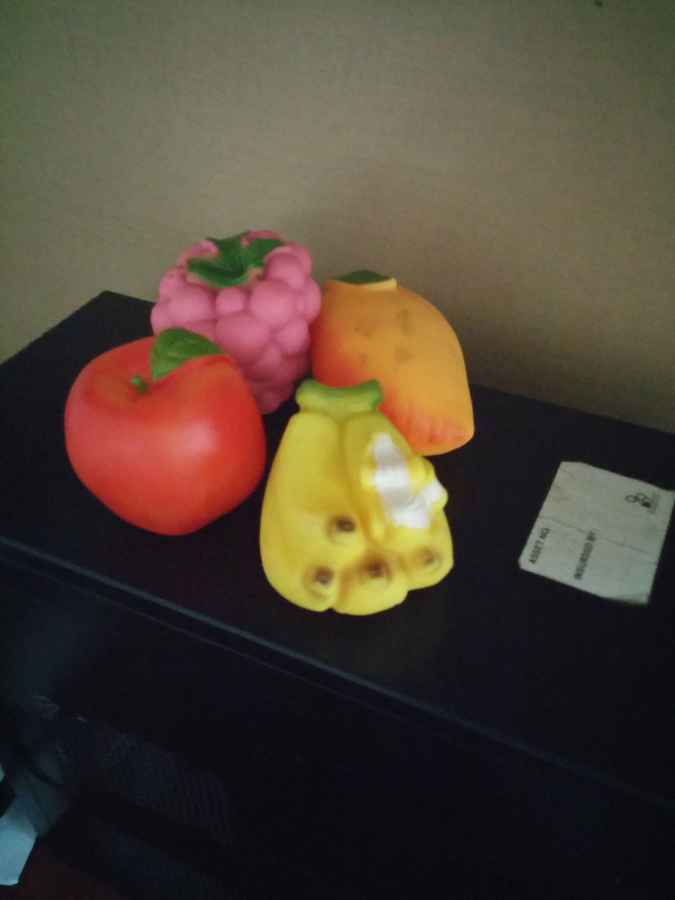 The camera UI also takes a cue from LG's overall UI and is very simplistic and fast. Considering the overall camera experience, the G3 could very well be the best camera that you can find on a smartphone right now.
Battery
The LG G3 has a 3,000 mAh battery, which lasts very long. In our test, we played a 1080p video on the device with WiFi on and full volume and brightness for an hour. The phone dropped only 9% battery after this, meaning that the phone would have gone for 11 hours on the video. This is a very good result for any smartphone. Even under regular usage, the G3 easily got us through the day on a single charge.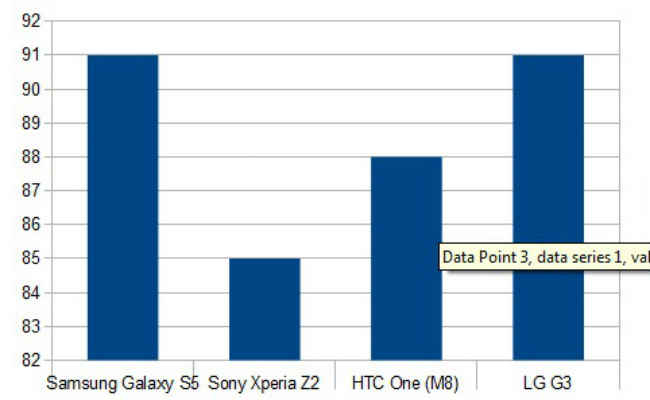 Battery percentages in various flagships after one hour of 1080p video.
Conclusion
The LG G3 has the best design among Android flagships right now and is possibly the best in that range as well. The phone provides a very good overall experience and leaves little room for complaint. LG could perhaps have priced the phone a little lower though. At a price of around Rs. 44,000, this phone would have been a steal, but still, if you do have the budget for a flagship smartphone then this would definitely be the first recommendation. It performs better than other flagships like the Sony Xperia Z2, Samsung Galaxy S5, HTC One (M8) etc. and does better in terms of build quality and feel as well.
LG G3 Price In India Starts From Rs. 47990 The price of LG G3 in India is Rs.47990. This phone is available in 16 GB storage variants.