Google seems to have started rolling out the Android 4.2.2Where to buy

1188

2599

3199 update to select devices including the Samsung Galaxy Nexus and the Nexus 7 and the Nexus 10Where to buy

34999

55600 tablets, the former made by Asus and the latter by Samsung. A user on Reddit was one of the first to notice the update on the Galaxy Nexus phone, and many other users pointed out the incongruity of the update not coming to the Nexus 4 first.
However, users expecting an exhaustive change log from the update will be disappointed since the update only seems to contain minor fixes. Reddit user WeeManFoo said that the update has resulted in better Bluetooth streaming with "hiccups" when audio was streamed over Bluetooth, being ironed out. However, WeeManFoo pointed out that the update did not appear to fix all issues pertaining to Bluetooth streaming as shifting from 3G to Wi-Fi would still break the Bluetooth connection between the Galaxy Nexus and the Bluetooth speakers.
Even though it does seem strange that the latest Nexus device - the Nexus 4 (made by LG), was not the first to receive the update, the minor nature of the update makes it a moot issue. However, we can be sure that the update will come to the Nexus 4 soon enough as it is Google's practice to roll-out Android updates in stages.
The last major Android update from Google was version 4.2 (Jelly Bean) that was pushed out in November last year. Features that were added through the update included support for multiple user accounts, better panorama photography, typing with gestures, widgets on the lockscreen, wireless media streaming and better touch performance.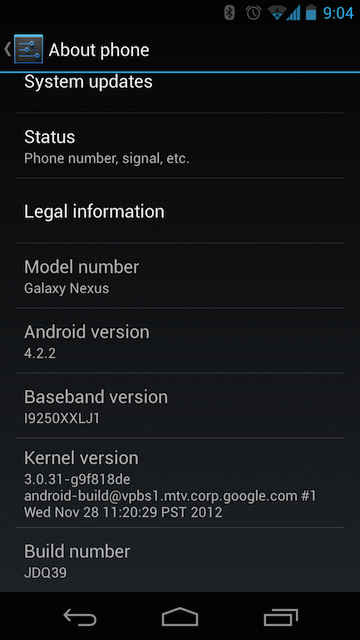 Sources: Reddit, Ars Technica