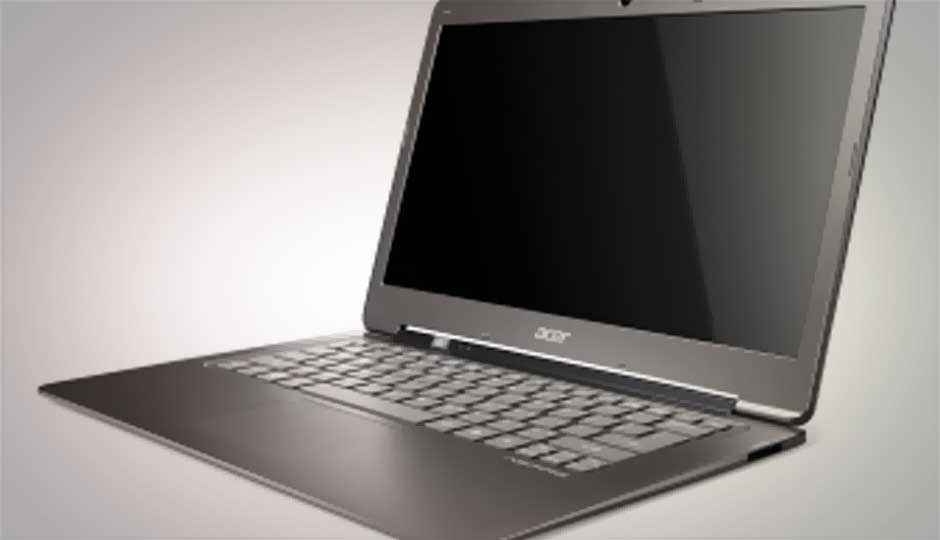 Acer Aspire S3 (Ivy Bridge) Rating

0

100
Our Verdict
The new Acer Aspire S3 ultrabook features an updated Ivy Bridge Core i7 processor, and a new price tag. On paper, this has impressive specs, but that doesn't take away the fact that it is charging a premium for just the Macbook Air form factor.
PROS
Extremely slim and light
Put together well
Stable performance
Good battery life
Display is not very reflective
CONS
Pricey
Powered by essentially a ULV Core i7 processor
No SSD
Acer Aspire S3 (Ivy Bridge): Detailed Review
There have been multiple ultrabooks that have been likened to the MacBook Air. However, the Acer Aspire S3 comes the closest to it, at least in terms of being designed like a real ultrabook. But all that does come with potential, at least on the spec sheet. Let us see if it actually is as good as we hope it is.
Build & Design
Out of the box, and this one is the second closest we have seen an ultrabook come to the form factor of a Macbook Air, after the efforts of the Dell XPS 13. Just to compare, the Aspire S3 is 17.5mm thick at its thickest point, while the XPS 13 tips the scales at 18mm!
Nevertheless, extremely classy to look at and has a very premium finish to it. The lid is made of aluminum, while the rest of the chassis is mostly plastic with a dash of magnesium alloy. Being a tad colour blind, it is difficult to actually identify what the exact colour is, but it does lean towards grey, with a mixture of mauve, golden and light brown. Pinpointing to an exact colour, hence, is not going to be possible! The brushed metal on the lid is a helpful contrast to the glossy laptops we have been reviewing for many years now. This one will not attract scratches, dust and fingerprints like the other hateful finish, but still does retain that craved shine which has become an indicator classy gadgets. While we don't agree with that at all, the consumers demand that, we are told again and again by the manufacturers.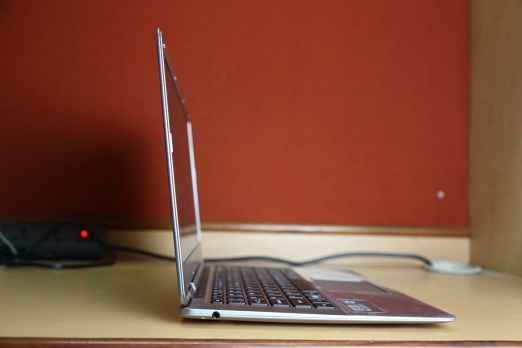 The Acer Aspire S3's slimness ensures all ports have been shifted to the rear spine, which personally we aren't huge fans of. The right side has the 3.5mm jack, while the right side has the memory card slot. On the back are the power input, two USB 3.0 ports and an HDMI out. The Aspire S3 remains very matter to fact with the amount of options it offers, with regards to ports.
We like the monochromatic treatment done to the Windows and Intel Core i7 stickers placed near the keyboard is appreciated, allowing the usually gaudy elements to blend in very well with the rest of the colour theme. It is neck and neck with the Dell XPS 13 in terms of weight – 1.35kg against the Dell's 1.36kg. Very well put together, and does have a very premium finish to it. It has a price tag close to Rs 67000, and mercifully feels every much worth that price tag.
Features & Specifications
Yes, the Acer Aspire S3 has the updated Ivy Bridge processor range – Intel Core i7 – 3517U clocking at 1.9GHz, with the Turbo Boost taking it up to 2.5GHz. There is 4GB of RAM to help it along. While this is technically a Core i7 processor, this will be the ULV one, and the power delivery will not be as punchy as the less battery friendly version. Just like its siblings from the M and V series, this one also has the Intel HM77 chipset.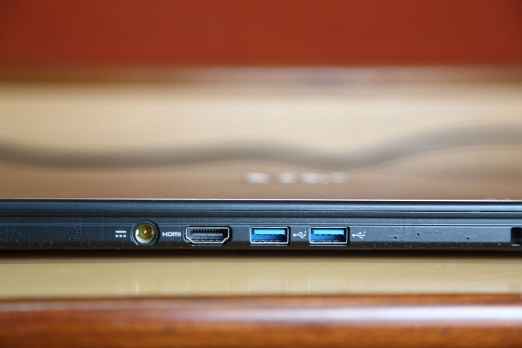 With Ivy Bridge comes the upgraded version of the integrated graphics – Intel HD 4000. No dedicated chip, but then again, we didn't expect this machine to have it either.
The 13.3-inch display brings some order back to the proceedings, after the 15.6-inch ultrabooks – the Acer Aspire V5 and the Acer Aspire M3 seemed to have sparked off a new trend. The native resolution is 1366 x 768 pixels, but the real impressive bit is the dual goodness of adequate colour depth and crispness!
Acer Aspire S3 features a hybrid drive - there is a 500GB hard drive for all your data, but critically, a 20GB flash storage that is used for the bits like caching data and for quick resume. In this slim form factor selling at this price, we would have actually appreciated a SSD, which would have acted as an antidote to the slightly lesser power grunt of the processor.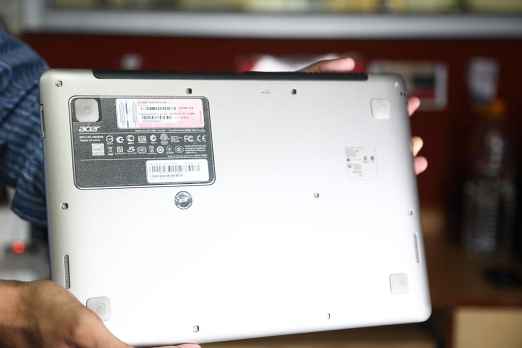 It is becoming common with laptops and ultrabooks to completely do away with USB 2.0, and the same continues with this Ivy Bridge based ultrabook – two USB 3.0 ports. There is the HDMI out on the Acer Aspire S3 as well, along with a memory card reader and a 3.5mm jack.
The machine comes preloaded with Windows 7 Home Premium 64-bit, and the usual gamut of preloaded software, which we do not like one bit. Cleaning out the software you don't need, running something like a CCleaner and defragmenting the drive – the ultrabooks felt much slicker than it was out of the box.
Performance
With the Acer Aspire S3's spec sheet reading Intel Core i7-3517U clocking at 1.9GHz, everyone would be forgiven for expecting blazing performance. And for the most part, you do get decent amount of grunt.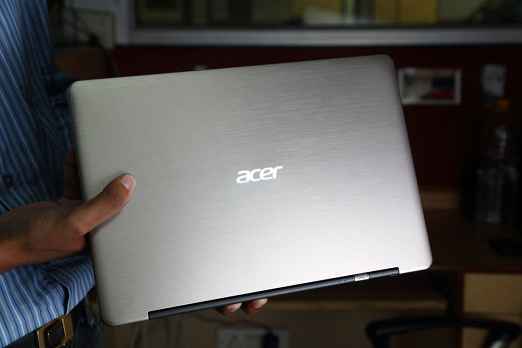 The PC Mark Vantage score of 7098, points straight at performance that will not disappoint. The more stressful PC Mark 07 score of 2383 is also amidst the upper mid-range scores. All this is put into perspective when Cinebench tags this processor with a score very close to 3. We will not compare this to the older gen ultrabooks that were on the Sandy Bridge platform – because it doesn't make any sense. However, from our knowledge and ability to read benchmark scores, this is definitely a notch above mid-range performance. And for an ultrabook in this price range, this one does offer a proposition usually expected from more expensive ones. Compared against the very competent Samsung Series 5, both these ultrabooks will appeal to a different demographic.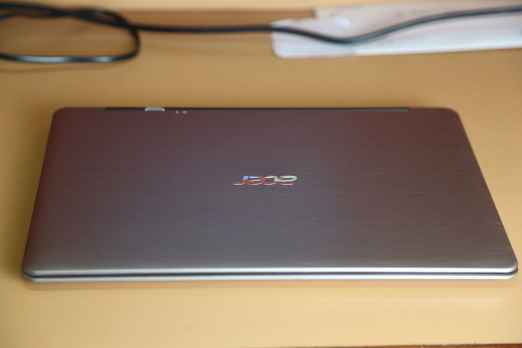 Gaming is not this ultrabook's domain at all, and the low scores on all the gaming tests prove that. The slightly older 3D Mark 06 clocked this with 4054, while the stressier 3D Mark 11 refused to complete any of the three tests on this machine, no matter how hard we tried. Unigene logged this with 11.5 FPS average frames, and that kind of puts things in perspective.
Surprisingly good battery life though! In our battery tests run on high performance mode completely stressing the machine, this one lasted 153 minutes from full charge to full discharge. That is a good two and a half hours at full load, and could easily translate into 4 hours and above under normal usage scenarios. While this isn't close to what the sibling, the Timelime Ultra M3 offers (198 minutes in the tests), but for a smaller battery, it is a job well done.
Bottomline
Seeing the specs on paper, you would have expected a faster ultrabook. However, what the Aspire S3 offers is stable performance along with the most critical element – good battery life. It has been put together well, and feels worth the price you pay for. But then again, you can get a lot more with the Samsung Series 5 Ultrabook, also updated with Ivy Bridge, for a bit less – if you want an optical drive and a slightly bigger display, that is.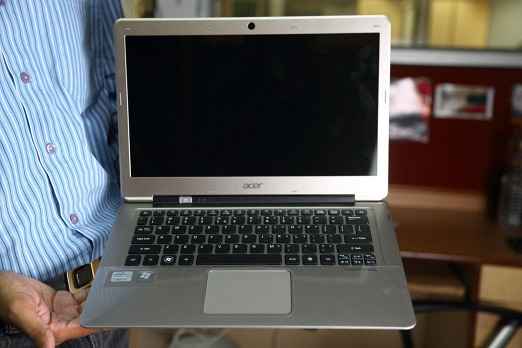 Contact: Acer India
Phone: 0120-3807200
Email: N.A.